Inspired by significant recent interest in the topic, the first in our series focuses on evaluating transformational change. Understanding what works within such a complex concept has come a long way but there are still many questions to answer and much to learn. Transformational change offers the potential for fundamental change – but what does this mean in practice, and how can we know whether we are making progress?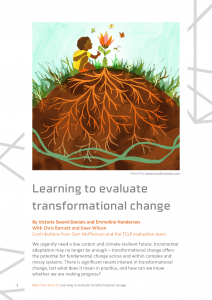 This Think Piece reflects on thinking that has evolved across a number of our projects, including our award-winning evaluation of the Climate Investment Fund's Transformational Change Learning Partnership, our work on transformation through evaluating the UK's International Climate Finance  Climate Change Compass, and DFID's BRACED programme.
Our later Think Pieces will focus on other cutting-edge topics. We look forward to you joining us on our thinking adventures and starting new discussions. Watch this space!
Artwork by www.karriefransman.com