Working with Itad Policy
Our guidance and policy framework guides individuals and companies making decisions and carrying out their work in ways that are compatible with Itad's values. Read our guidance and policy framework for suppliers.
Equalities Policy

We are committed to promoting equality of opportunity for all staff and job applicants and to complying with the Equality Act 2010. Read our Equalities Policy.
Covid-19 office risk assessment
Our COVID-19 risk assessment forms the foundation of the actions, mitigations and guidance that we have put in place to ensure that we return to our office safely after closure due to the pandemic. (Published 1 July 2020, last updated 10 May 2021.)
Ethical framework
Our Code of Ethics sets out guidance for the ethical behaviour of our staff. It is underpinned by our company values and sets out the minimum standards of behaviour and compliance. Where appropriate, the Code refers to legal requirements, other regulations and company policy. Our Ethical Framework includes policies in relation to professional conduct, modern-slavery, anti-bribery, equality and discrimination, research ethics, environmental and data protection.
Quality Assurance & ISO9001:2015
One of Itad's values is Technical Excellence and Innovation. Through this value,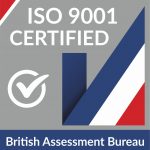 we recognise that our reputation is built on the quality and professionalism of our people and our work. We want to do the best job possible; we recognise that this challenges us to explore new approaches, to reflect on the quality of our own work, and to be agile in adapting our knowledge and skills to meet client needs. We are proud to have held the ISO9001 standard since 2012. Itad Ltd.'s ISO 9001 registration number is: 192623
UN Global Compact
We are committed to making the UN Global Compact and its principles part of our strategy, culture and day-to-day operations and to engaging in collaborative projects which advance the broader development goals of the United Nations, particularly the Sustainable Development Goals.

Read our annual Communication on Progress, 2022.
Itad Ltd.'s Participant ID is: 126261
Cyber essentials certification
We take issues of cyber security extremely seriously and are Cyber Essentials Certified. Cyber Essentials is a Government-backed, industry-supported scheme that helps organisations protect themselves against common online threats. It provides a clear statement of the basic controls all organisations should have in place to mitigate internet-based risks. The certification process offers a mechanism for Itad to demonstrate to our clients, partners, and other stakeholders via an external audit process that we have taken these essential precautions to protect our company against cyber threats.
International aid transparency initiative (IATI)
Itad's latest IATI returns and implementation schedule can be found here. Itad Ltd.'s identifier is: GB-COH-1869600
Global Safety & Security
The safety and security of our staff is our paramount concern. Our Risk Management Framework helps us to protect our people, to minimise and manage risk, and enable us to remain present and operational across our overseas projects.
Safeguarding
Safeguarding is a priority for Itad. We are committed to providing a safe and supportive working environment for our staff and those we work with. Our Code of Conduct sets out minimum behavioural standards as a condition of employment or engagement with Itad.

We provide training to all staff on what Safeguarding is, what the code of conduct means to us and how to report and handle any issues that may arise.
Reporting a concern
If you have a concern that an employee, a representative or Itad may not have acted in-line with our policies or expectations, then you can report issues by e-mailing reportingconcerns@itad.com. Read more about how to report concerns.
Privacy policy
We take your privacy seriously. Our privacy policy describes what information we obtain as you browse the website or contact us and how we process that data. Read our privacy policy.
Read our supplier privacy notice.
Communication guides
A range of guides from the Itad Knowledge Hub to support high-quality and consistently branded communications for impact:
Itad Tone of Voice Guide
Itad Style Guide
Itad Inclusive Language Guide 2023
Social media policy
Our social media policy helps to safeguard our company and employee reputations and ensure that our messages are shared online responsibly, in line with our values. Read our Social Media Policy
Trademark
'Itad' and the tri-colour triangles icon are a registered trademark of Itad Ltd.
---
Itad, we, our, us refers to the Itad Group of companies:
Itad Ltd. is a UK registered company (01869600). Registered address: Preece House, Davigdor Road, Hove, BN3 1RE, UK
Itad Inc. is incorporated in the United States of America (EIN: 84-2346030)
If you have a query about any of our policies, please contact mail@itad.com