We are delighted to announce that an Itad-led team has won the IDEAS award for influence for our evaluation of Transformational Change in the Climate Investment Funds (CIF).
The evaluation was a highly complex undertaking and the result of nearly a year's work from the evaluation team. This team was led by Itad but included leading consultants from ICF International and Ross Strategic as well as independent consultants.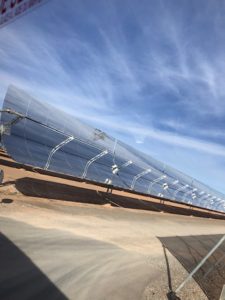 Our evaluation was centred around the idea of 'transformational change' in a climate investment context – a complex concept that is multifaceted and hard to define clearly.  The evaluation looked at CIF investments to support transformational change toward low-carbon, climate-resilient development in the areas of mitigation, resilience, and forests. While the Itad team were firmly independent, they worked closely with the Transformation Change Learning Partnership (TCLP) based in Washington, which is part of CIF, and were able to build on much of the work that they had already done in this area.
The evaluation's final report was launched at the 'Power of 10: Shaping the Future of Climate Action' summit in January 2019 and received a great deal of attention. It was discussed in depth during the conference plenary by an impressive panel including ministers (from Morocco, Niger and Zambia) and high-level representatives from the World Bank and the UK government.
Itad's Sam McPherson, who was team lead for this evaluation and attended the 'Power of 10' conference, reflected that "…the results of this evaluation were front and centre of this event and, without doubt, influenced the high-level discussions both about how transformational change in the climate sector can best be measured, but also about where and how global investments in this sector should be best be targeted over the next 10 crucial years…" (Read Sam's blog from the conference here.)
On winning the IDEAS award Sam said "It's great that this evaluation has been recognised in this way. We had a superb evaluation team for this work and, as such, it's very much a team award recognising the heavy lifting done by a dedicated group of professionals and the support and guidance from the commissioning organisation (CIF). Itad's tag line is 'results in development' so this award for producing an evaluation that has resulted and/or will influence policy on a topic so high on the development agenda particularly gratifying…it's why ultimately we do this work"  
Members of the team collected the award at this year's IDEAS Global Assembly. More information about the award, other winners and runners up, and the award ceremony can be found here.