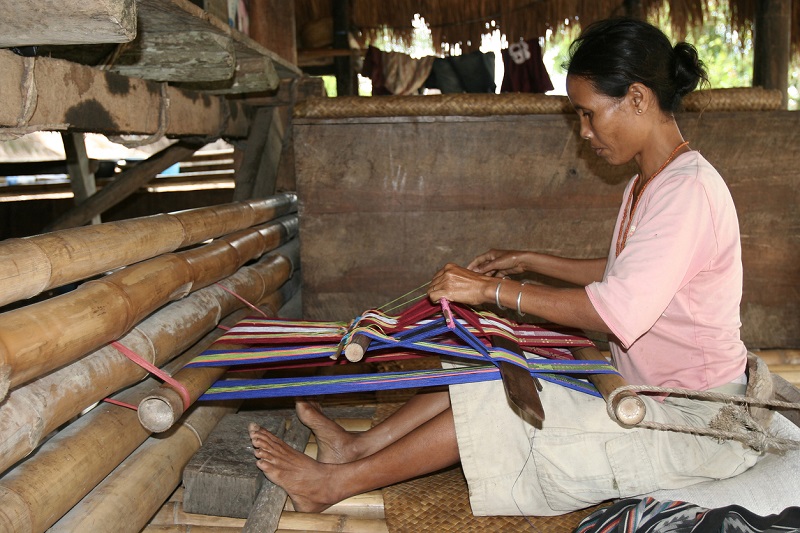 This blog post was originally published on the FinDev Gateway blog.
Human-Centered Design is a creative problem-solving approach that puts the customer or beneficiary at the center of the design process, using a replicable process driven by empathy, collaboration, and co-creation. In the last ten years or so, HCD has become increasingly popular for designing products, services and programs to fight poverty in international development, inspired by successes from the private sector. It's most widely recognized by the number of sticky notes on the wall in meeting rooms around the world!
One of the greatest advantages of the HCD process is that it forces development practitioners to be empathetic designers, refocusing our design process onto the target group as opposed to donors' priorities.
Instead of driving initiatives by asking questions like "how will we hit our targets?" or "what will our donors allow us to do?" we start by asking more meaningful questions like "what does the consumer need?" and "will this solution add value to their lives, and if so, how?" It forces us to get to know our target populations' needs, wants and barriers, and then design for them – all by asking good questions, actively listening, and getting feedback from testing our ideas with them.
As a human-centered designer myself who has spent the last decade applying a variety of HCD methods to international development problems, I believe in the power of human-centered design. However, as I see lots of development dollars going towards HCD approaches, I have questions about when HCD works best and when it might not be the most appropriate approach. To this end, I worked with the Savings Learning Lab at Itad on a publication that takes a critical look at the application of the HCD process in international development to understand what's working, what's not working and under what conditions the application of HCD could lead to better outcomes.
What has worked well in applying HCD to international development?
The best and most successful development interventions – from loan products to toilets, hand-washing stations to health programs – all come from understanding human behaviors.
To design something people will use and benefit from, we need to understand their motivations and needs, why they say yes or why they say no, their day-to-day experiences, their problems and their goals.
I ran a number of design sprints with fintechs where we focused on specific challenges the businesses were facing, many of which had to do with improving the sales journey for the customer. One fintech wanted to improve sales and usage of a bank account immediately after sign-up. The design sprint included prototyping and testing a highly visual brochure, simplifying language and modifying the customer journey to encourage sales staff to show the customer how to cash-in immediately after signing up for the account. These changes led to a 50 percent increase in sales and increased account activity.
In Cambodia, the microfinance institution (MFI) AMK used an HCD mapping exercise to understand their clients' cash flow, revealing the critical insight that monthly repayment for a traditional loan would be impossible given the irregularity of their income. With this understanding, the MFI designed an innovative and highly successful loan product with a flexible credit line over a two-year period.
HCD is especially effective when addressing a narrow or focused problem with a clear path to change, such as designing marketing materials that communicate effectively with the target market, finding strategies to increase the number of sign-ups or usage of a service, or improving a digital user experience. For these types of problems, HCD can help us think outside the box and give us ways to test our ideas early and cost-effectively.
What hasn't worked in applying HCD to international development?
But there are areas where HCD hasn't worked as well. Complex, large-scale systemic problems such as poverty, income inequality and restrictive social norms are difficult to address with HCD. Having emerged from the private sector, HCD focuses heavily on outcomes like uptake, usage, retention and conversion rates as early signals of demand, which is equated with success. But these indicators are more suited to measuring short-term performance. There is little evidence linking longer-term social impact to HCD, as the approach does not usually go far enough to show whether applying HCD methods to international development interventions leads to social impact.
In development, design engagements tend to be one-off and short-term (three to six months), with an emphasis on improving desirability of products and services but not enough follow-through to ensure a lasting impact. For example, UGAFODE, a Ugandan MFI, embarked on an HCD journey which revealed that rural customers needed a way to access their savings. Through the design process, they developed a "savings scratch card" that could be widely distributed through small retail shops or kiosks. However, the design company was no longer involved when the pilot was implemented, and UGAFODE had limited capacity to collect feedback and translate customer insights into improved features. The product was consequently unable to gain traction and never got off the ground.
As most programs hire international design firms to run HCD projects, HCD can also suffer from the phenomenon of "parachute research," in which outside consultants come into the country only for the project and then leave. Without being immersed enough in the local context, they cannot provide the local insights which are often necessary to design a successful product for the target market.
Finally, not all organizations are set up to apply HCD methods effectively. HCD is fast-paced and sometimes requires quick and multiple changes. This can be difficult for large commercial banks, for example, where product development and process changes tend to take a very long time. Fintechs, on the other hand, tend to be more agile and iterative and better able to take on HCD processes.
So what do we take away from this exercise?
While HCD has enormous potential to improve international development programming, it's not for every organization nor for every problem.
The HCD process helps us better understand value propositions for customers, which development organizations tend not to focus on as much as the private sector. However, we can't only focus on desirability of products. Feasibility and viability must be considered from the beginning as well, in order to make sure a project and its impacts will be sustainable. And at the end of the day, regardless of the process we use, we need to keep challenging our assumptions and keep designing with the user at the center of the process.