In response to this, Itad and our partner Altai, were commissioned by UK Conflict, Stability and Security Fund (CSSF) teams to look more closely at stability trackers – what they are, their added value and the precarities of maintaining and using them – and, in some cases, develop whole tracker systems. This blog reflects on some of the lessons from these activities.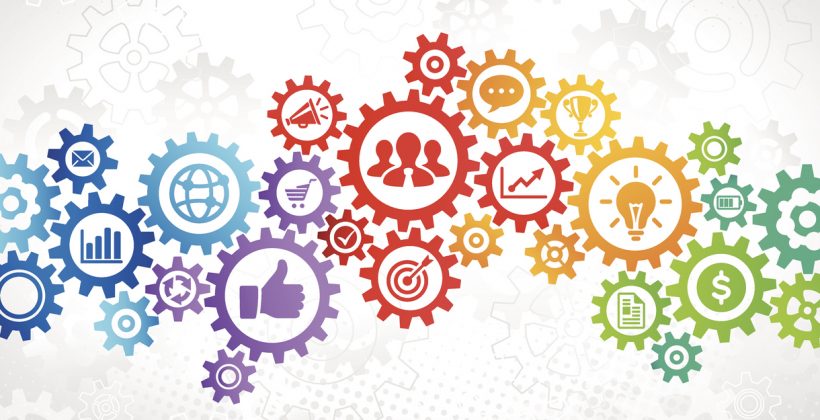 What are stability trackers?
Stability trackers have been designed to respond to country-specific needs. In some cases, they have been around for a number of years in response to the UK Government's (HMG) Building Stability Framework that recognises a range of issues that contribute to stability.
The pandemic was a shock that brought this kind of holistic thinking to the fore, requiring teams to come together to address intersecting health, political and economic concerns. The stability tracker concept facilitated this need for a collective understanding of risks, and to track those risks that most influenced stability.
As context-specific tools, the trackers tend not to take a standard form: some may use qualitative and quantitative indicators to track risks, others assess the likelihood of different scenarios or purely quantitative trend analyses of key risks such as economic or perception survey indicators.
Importantly, they help to establish a culture of collective analysis and context-tracking, combining the analytical capabilities of different teams – an important first step in integrated delivery.
How can they work in practice?
Itad worked with Altai to redevelop and systematise a stability tracker in Jordan to inform policy and programmatic decision making, fitting into existing systems and ways of working within the embassy.
We created an Excel-based tracker, built around open-source data and data collected by the various programme and policy teams within the embassy. It is structured around key indicator categories that align to the embassy's core focus areas and used to generate shared situational awareness across the embassy and stimulate collective reflections of the context.
There were over 50 indicators. To make this manageable, the indicators were divided into 'strategic' and 'programme' level indicators and then delegated across the political, economic and security teams. By the end of the process, any single team had a maximum of ten indicators to manage.
This was accompanied by a monitoring and operational framework that provides a process for data collection, collective analysis and shared strategy development across multiple HMG teams. The diagram below illustrates this process.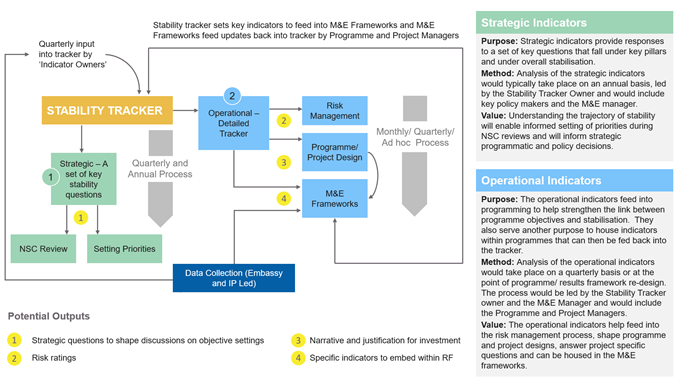 How do they add value?
We recently developed two trackers, both of which were driven by context-specific problems and opportunities. In delivering these two trackers, we could see three key areas where they added value:
To inform strategy: Stability trackers are bespoke and context-specific, tailored to the strategic needs and available resources of country teams. This means they can stay focused on critical information needed to inform strategy but also adapt as that strategy changes. They also recognise that the context within which programmes operate are multi-dimensional, and it is necessary to have a broad overview of the full range of factors that influence stability in order to make informed strategic decisions.
To inform adaptive programming: Understanding the multi-dimensional factors that pose risks and opportunities to specific programmes is important and necessary to flag early warnings that can affect a programme: e.g. the price of bread can be an early indicator of economic stress that may influence drivers of extremism relevant to a counter-terrorism programme. Monitoring the context can help programmes review whether they are contributing to the right levers of change and when they need to collaborate with others, and is the first step to judging when, where and how adaptation may be needed. The stability tracker provides the evidence base to make informed decisions about programme design and maximise programme effectiveness.
To encourage integrated delivery: Stability trackers offer a valuable forum to integrate analytical capabilities and information from across multiple stakeholders, inside and outside HMG, as well as identify knowledge gaps. This shared process of analysis and reflection can encourage shared problem solving and integrated solutions. In doing so, stability trackers and the process they entail can shift working practices and cultures, encouraging integrated delivery and strategy development to become the norm rather than the exception.
For more on how to promote integrated delivery please see our complementary blog: Integrated delivery: We know it is needed, so how do we get it?
Who might use stability trackers?
Below we summarise who might use stability trackers and why.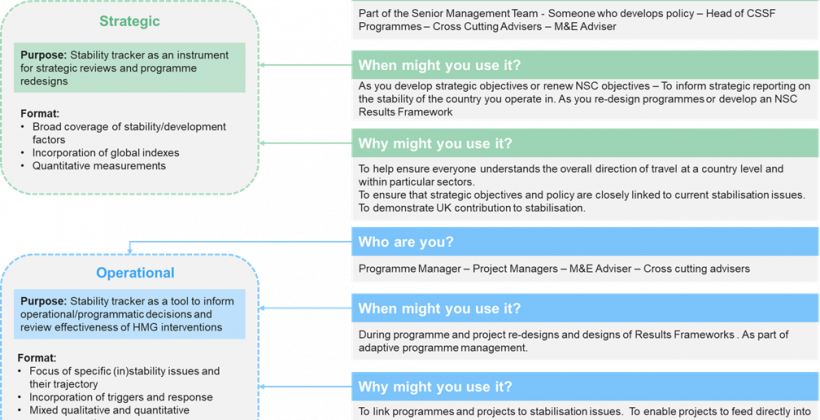 What can we expect next?
Alongside our work on stability trackers, we have also been working on an integrated delivery framework. Combined with our work on measuring political access and influence we have an emerging integrated delivery toolkit that we hope to be able to pilot at a country-level within the CSSF network in the near future.
We are keen to hear from others who may have experience with stability trackers and to share learning and examples.
We also invite any programme and country teams who may want to learn more about the tools mentioned to contact us.
Contact details: tom.gillhespy@itad.com; deeptisastry@gmail.com