The assignment was titled an 'Impact Strategy Audit', which could imply it was formalised exercise designed to assess Impact Measurement and Management (IMM) practice and impact return against an industry standard. In reality, the assignment scope and approach were different: we were not required by NII to assess impact return, and we did not formally 'audit' against an industry IMM standard – this does not exist. Instead, we worked collaboratively and iteratively with NII to deliver a process and product that together were as 'learning focussed' as possible, and we compared the Impact Strategy to the current industry consensus around IMM framed in the Impact Management Project, along with other relevant frameworks.
What value did the Impact Strategy Audit offer to NII, and could offer to the impact investing industry?
We think this Impact Strategy Audit has offered value to NII and has the potential value-add to the broader impact investing industry in two key ways – the process and the product:
As an open and collaborative learning-focused process: NII worked openly and collaboratively with the Itad team. We felt we were given open access to all the documents, data, and staff that we requested. We were invited to private Investment Committee meetings, and open access events – an Annual General Meeting and a roundtable to discuss NII's revised Impact Framework. Staff were all responsive, open and reflective in interviews and meetings, including at an analysis workshop during which the team critiqued and reflected on the emerging findings. Via this open access, we were able to assess, observe and understand the culture and practice of NII around IMM. Finally, NII has been fully open and transparent externally, having published the report in full, along with a blog, and management response on next steps and learning.
We think this collaborative approach made it easier for us to develop an end product within a limited timeframe and with limited resources that is more useful to NII – from findings to recommendations, the initial draft report resonated with the team and was finalised relatively quickly.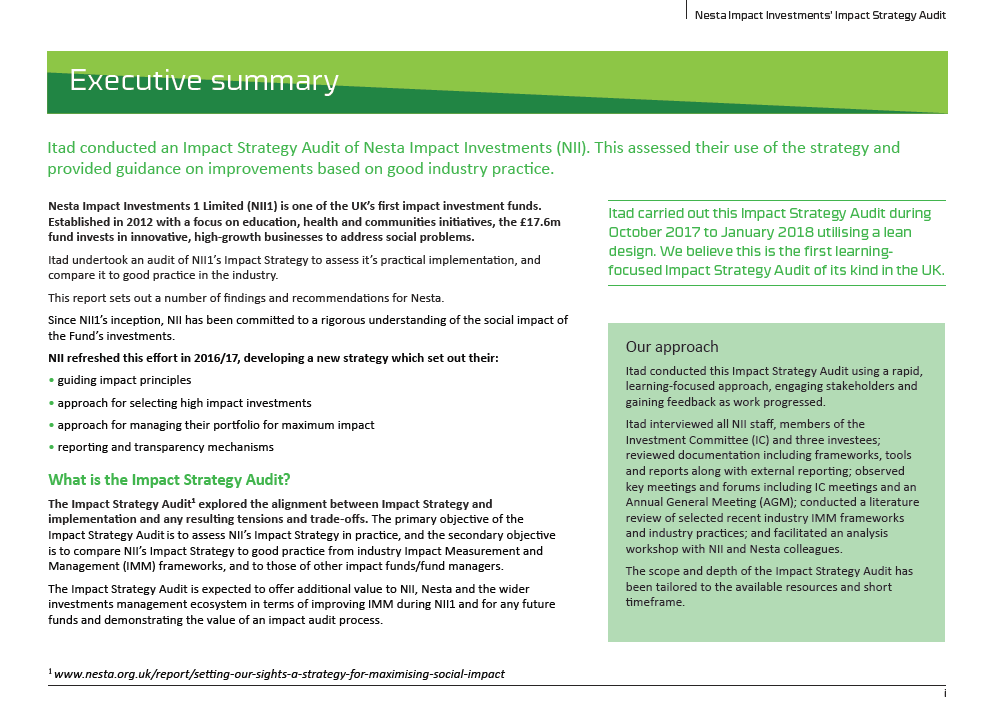 As an accessible knowledge product to contribute to improved IMM in practice: We have made effort to make the executive summary of the report accessible and useful for earlier entrants into impact investing to understand. We want to minimise the use of technical language and jargon and help demystify IMM. We hope we have achieved this aim! The main report, in which we lay out the detailed findings through recommendations, is targeted at more experienced impact investors and IMM professionals.
We think this knowledge product helps NII demonstrate the strengths of their approach to IMM to the sector, and at the same time be open about the real-life challenges involved in IMM and areas for improvement.
What next?
We want to start a dialogue on the content and style of the report. We want this report, and future similar knowledge products, to be useful and to be used! To facilitate this, NII and Itad, in partnership with CDI are discussing potential learning events, thinking through online options (eg a webinar) or in-person events.
We also advocate that other fund managers and investors consider commissioning similar assignments to open up their IMM strategies and experience to a third-party assessment for the purposes of learning and improvement.
Read the full report and the executive summary here.