Date: Wednesday, September 21
Time: 7 – 10am EST / 12 – 3pm BST
Register here: https://bit.ly/3QiKgFz
Join us for a dynamic learning event designed to share practical lessons in developing and delivering financial services that contribute to improving the resilience of low-income customers.
The event will draw on the work of Savings at the Frontier and Scale2Save over the past six years with 20 financial service providers (FSPs) in 9 countries across Africa.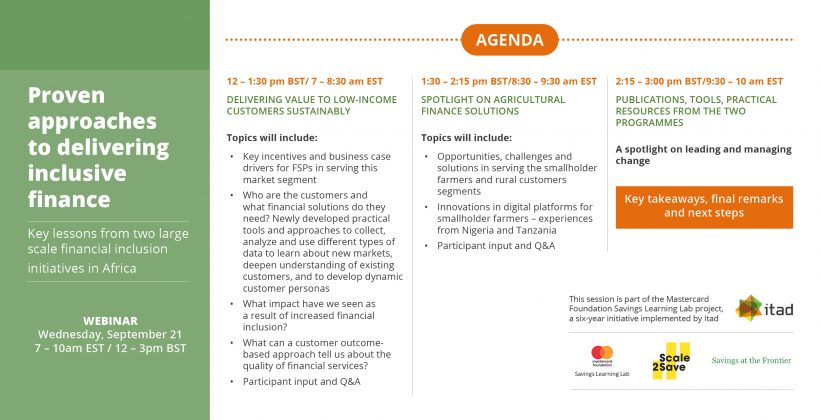 Sessions include:
Showcasing critical drivers of sustainable business models employed by participating FSPs to deliver and scale financial solutions for low-income customers.
Insights on leading and managing change within FSPs to serve this market segment successfully.
Practical tools and resources on developing value offerings for a range of low-income customers – including rural and smallholder farmers.
This session is part of the Mastercard Foundation Savings Learning Lab project, a six-year initiative implemented by Itad. The Savings Learning Lab supports learning among the Foundation's current savings sector portfolio programmes.
Itad also synthesises performance monitoring data and knowledge outputs across the portfolio of projects and facilitates cross-portfolio learning dialogue.
Read more about the Savings Learning Lab here.
Register for the webinar here.
Agenda
12 – 1:30 pm BST / 7 – 8:30 am EST
Delivering value to low-income customers sustainably
Topics will include:
Key incentives and business case drivers for FSPs in serving this market segment
Who are the customers and what financial solutions do they need? Newly developed practical tools and approaches to collect, analyze and use different types of data to learn about new markets, deepen understanding of existing customers, and to develop dynamic customer personas
What impact have we seen as a result of increased financial inclusion?
What can a customer outcome-based approach tell us about the quality of financial services?
Participant input and Q&A
1:30 – 2:15 pm BST / 8:30 – 9:30 am EST
Spotlight on agricultural finance solutions

Topics will include:
Opportunities, challenges and solutions in serving the smallholder farmers and rural customers segments
Innovations in digital platforms for smallholder farmers – experiences from Nigeria and Tanzania
Participant input and Q&A
2:15 – 3:00 pm BST/9:30 – 10 am EST
Publications, tools, practical resources from the two programmes
A spotlight on leading and managing change
Key takeaways, final remarks and next steps