Here we explore some particular challenges and opportunities facing evaluation commissioners and designers working in the social enterprise sector.
The number and size of social enterprises has risen greatly over the past decade, with record breaking increases during the pandemic. This is good news for global development; as the Sustainable Development Goals cannot be achieved with public funding alone.
To support this growth, governments, philanthropic organisations and impact investors have directed more support to social enterprises to help businesses start up, scale up, reach new customers and expand their potential to make a difference in the world.
In a relatively new sector, monitoring and evaluation is key to deepening our understanding of how, and how much, social enterprises deliver impact and to help investors design the most effective forms of support, both financial and non-financial.
Our recent experience suggests typical evaluation design approaches will need to be substantially adapted to work in the context of social businesses. Here we share our learnings from working with the IKEA Foundation and Yunus Social Business.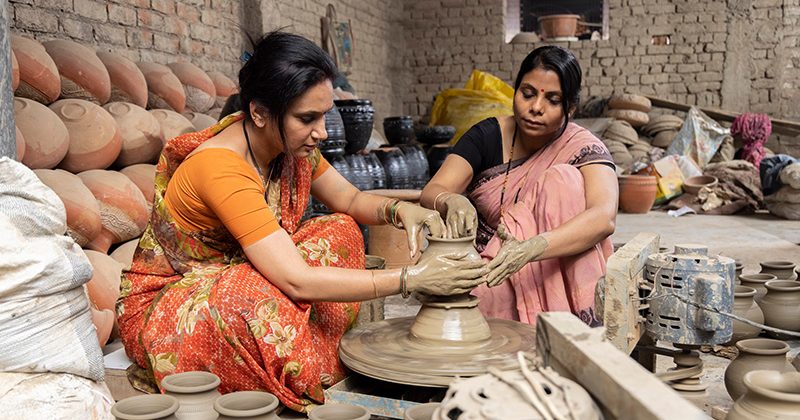 Opportunities for better social enterprise impact evaluation design
In 2020, the IKEA Foundation and Yunus Social Business partnered to promote entrepreneurship in India and Kenya. With grant-funding from the IKEA Foundation, Yunus Social Business (YSB) asked Itad to do two things:
to work with (and collect data from) a selection of the social enterprises it supports in India and Kenya to better understand how these enterprises are generating impact and for whom; and
to work closely with YSB to build out its systems for ongoing impact measurement and management.
YSB aimed to use the findings from both processes to refine and strengthen its services to better address the unmet financial and non-financial needs of social enterprises, which in turn was expected to help enterprises improve their impact and financial sustainability.
During our evaluation, we uncovered three key opportunities that evaluation commissioners and designers should consider when working in the social enterprise sector.
1. Be flexible in definitions of 'impact' and adopt the language of enterprises
The world of social enterprise includes many concepts, frameworks and terms that evaluators may not be familiar or comfortable with. This includes business models, investment strategies, investment terms and understanding the links between financial and impact performance. Monitoring and evaluation may be referred to as impact measurement and management. Beneficiaries may be called stakeholders. Further, a broader definition of impact is typically used.
It is important to understand social enterprises' perspectives of what is considered impact. Typically, businesses see 'impact' as outputs (such as goods or services sold), outcomes (such as customer satisfaction) and changes to the wellbeing of target groups (such as increased income).
Social enterprises believe that evaluating the success of the business model (the pathway for the business to generate profit and financial viability) is equally as important as capturing social impact because one is intrinsically linked to the other.
Evaluators may need to adjust their terminology and adopt the language of businesses and investors – even if they prefer a 'traditional' narrower definition of impact. This flexibility can improve communication and relationship building.
For example, when working with social enterprises, we found that traditional evaluation tools such as theories of change remain useful. But for social enterprises it is equally important to unpack the business model and the opportunities to create income and profit, as it is to explore what evaluators would consider 'traditional impacts', such as the pathways to social impact.
We also found it necessary to distinguish between types of impact and use the language of the social enterprise (e.g. we spoke of 'increased income' rather than unspecific words like 'impact' or 'outcome'.)
2. Help shape the evaluation to maximise its relevance for social enterprise managers
Many evaluations of social enterprises are still funded by government agencies, foundations and investors, who may have different objectives to the enterprises themselves. The more organisations involved in evaluations, the more complicated it can be for evaluators to meet everyone's needs, particularly when budgets are limited. Social enterprises may be reluctant to participate if they do not see that their interests reflected in evaluation designs. Evaluation commissioners and evaluators should:
Ask social enterprises what their key questions are and include questions of particular interest to social enterprises.
Evaluators may need to facilitate discussions between evaluation commissioners (funders, investors) and enterprises on the purpose, scope, key questions and budget to increase buy-in by all parties, as well as adding specific questions which are of interest to the social enterprise.
For example, at the request of social enterprises, we asked their suppliers for their views of their working terms and conditions and asked their customers for feedback on how goods and services good be improved.
Engage with enterprises throughout the evaluation and draw on their in-depth knowledge of the context.
This can help planning and the development of data collection processes as well as strengthen the interpretation of findings.
For example, when validating findings, we found that the perspectives of social enterprises helped us to reach more accurate conclusions. In one case, a social enterprise clarified that their suppliers typically work in groups to process agricultural produce. This helped us to re-interpret our data on income change.
Look for ways to use an evaluation to offer wider benefits to social enterprises, such as to strengthen their own data collection and management practices.
Some of the evaluation tools and processes could be integrated into ongoing monitoring and evaluation. These may need to be adapted and/or simplified, which may have some resource implications, but this can empower enterprises and help them generate timelier and more accurate information to support their own impact management.
3. Reduce the evaluation time burden for social enterprise managers
Social enterprise owners and managers are busy running their businesses, and may not have dedicated impact management staff. They may find it challenging to find time to participate in traditional evaluation processes (such as clarifying theories of change or discussing preliminary findings). Evaluators should:
Talk to enterprises about the different evaluation processes, how much of their time may be required and what will be required of them, and negotiate from there. But, be clear with enterprises that the more they put into the evaluation the more value they are likely to get. Plan around manager's busy periods or when they will not be available, for example during end-of-month financial reporting or seasonal peak work periods (like harvesting times in the agriculture sectors).
Conduct extensive preparation for the first meeting.
Before the meeting, review existing business information already collected by funders or investors, such as prior evaluations, longitudinal financial, investment and operational data, reports about technical assistance provided, investors screening and due diligence reports and assessments of the enterprises' capabilities.
Plan and budget for delays.
And be prepared to adjust plans and schedules repeatedly.
Want to learn more about our work with the Ikea Foundation and Yunus Social Business? Read more about the project here.
Donna Loveridge is an independent consultant focused on inclusive economies and systems change. Edward Hedley is a Senior Consultant at Itad specialising in Climate Change.