What are we learning from savings group members on how bank linkages are working for them?
In a recent webinar, CARE shared compelling outcomes of savings groups having access to formal finance such as bank accounts and mobile money services, often referred to as 'savings group linkages'. To assess the impact of linkage on group savings, businesses, member savings, livelihood and empowerment the team used qualitative and quantitative data from focus groups, financial service providers, linkage readiness assessment tool and rolling baseline and endline surveys. CARE will be documenting this evidence in an upcoming study covering four-countries – Kenya, Cote d'Ivoire, Tanzania, and Rwanda – across three different programs.
Here, we preview a few examples of how savings groups benefited from working with banks.
"My bank account secures my money and gives me privacy because only I can see how much is in my account"
-Village Savings and Loan Associations (VSLA) group member, Korhogo, Côte d'Ivoire
Meet Chigata group, in Tiassalé, Cote d'Ivoire
The members of Chigata group are all women from the northern part of Cote d'Ivoire, married to men who had either moved to Tiassalé or were from the area. The group was very wary of formal banking services having heard about people losing all their money during the civil war as cooperative banks shuttered and dissolved. Some members had access to mobile money services, but most of the older women didn't even have phones. The group is now two years old. All members own mobile phones and every member has a bank account at ADVANS (microfinance bank), as well as at least one mobile money account. Everyone holds an account with MTN (telecommunication company) so that they can transfer between their e-wallet, the group's e-wallet, and their group and personal bank accounts. The group made sure that every member opened an account to build collective confidence and overcome their fears of financial services, with the support of their village agent recruited by CARE to form, train and support savings groups. They say that this has brought them closer together; they support each other through their businesses and through life.
All savings now happen via mobile money transfers, with the loan fund transferred from the group's account to individuals to invest in their businesses. This cashless banking allows the group to feel safe in the security of their funds and to invest easily and readily without relying on cash. As a result, their businesses are now among the most profitable in their communities and they are planning to apply for a bank loan within the next six months.
"Mobile money helps me to safely manage my business transactions during periods of high sales"
– VSLA member, Abidjan, Côte d'Ivoire
Meet a female entrepreneur, in Abidjan, Côte d'Ivoire
A female entrepreneur and member of a group in Abidjan, Côte d'Ivoire uses her bank and mobile money accounts to invest in her business on an ongoing basis and to positively respond to changes in her local market. Prior to linkage, she couldn't buy enough stock to satisfy her customers' demands, would often run out of high selling products and not be able to buy more until the following week, leading her to lose customers and sales. Now, with her accounts and money easily accessible, the entrepreneur can buy more stock whenever she needs, meet demand and build her customer base. This growth in her business means she's often handling larger amounts of money than she's used to. Now she has both bank and mobile money accounts, she can handle these transactions safely and feels her income is safe.
These women's groups in Côte d'Ivoire are part of over 6,600 savings and loans groups formed and almost 1000 groups who have opened bank accounts through CARE's POWER Africa project.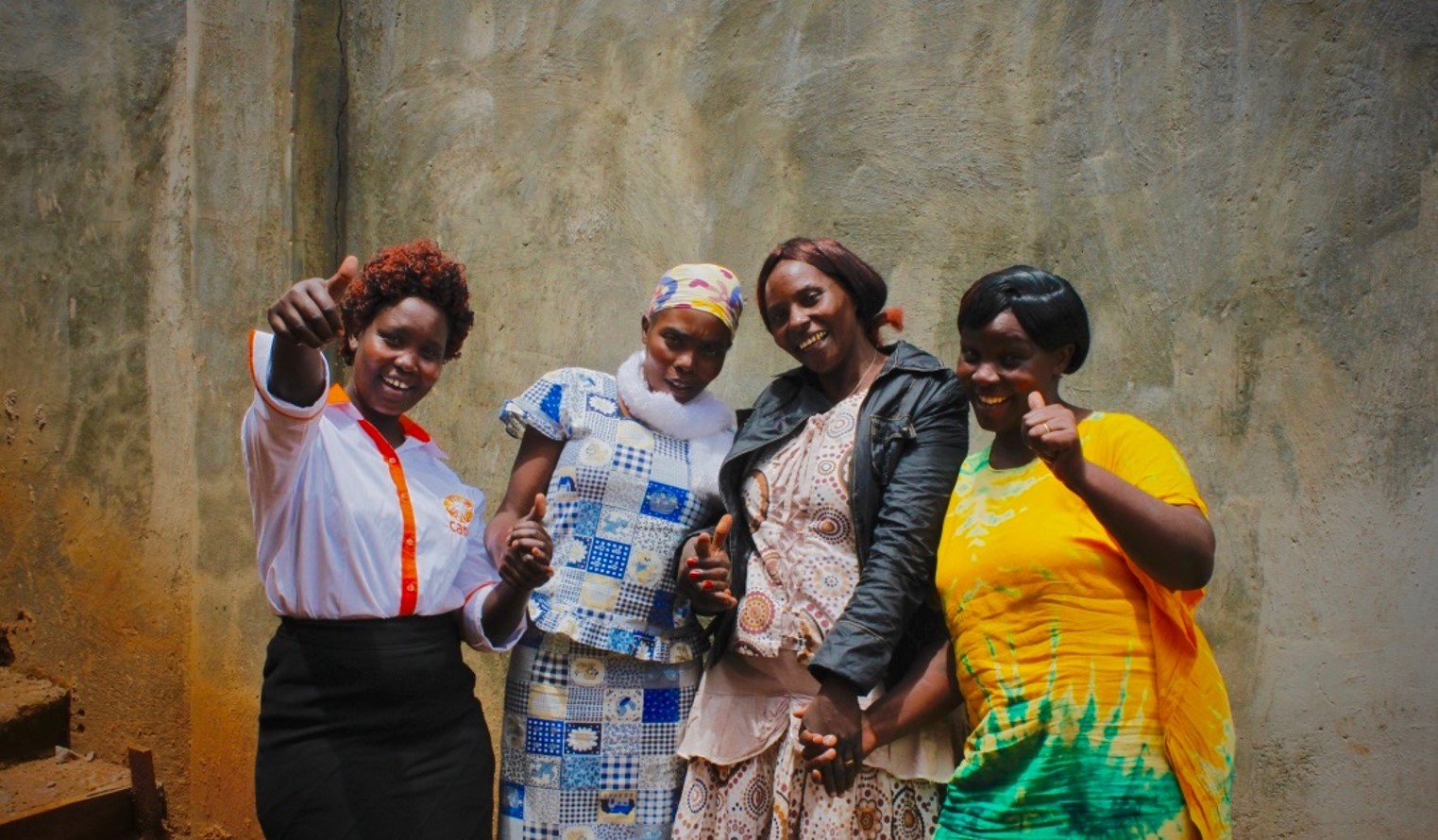 "Opening an account creates independence in the household. Overdependence on men is tiring- when I ask for something from my husband I usually do not get it immediately. When I am independent this is improved."
– Woman, Siaya, Kenya
Meet Nyakweng'rere Women's Group, in Kenya
Nyakweng'rere Women's Group opened a group account with Equity Bank six months ago through the LINK Up program with CARE. The group meets and deposits money weekly to ensure that savings are safe from theft or misappropriation.
When they opened the group account, they decided that every member should also have an individual account (for many, it is their first) to make deposits, receive loans and distribute share-out proceeds without using cash. This group continues to travel to the branch to use the ATM rather than completing transactions at mobile money agents, likely because of their proximity to a branch and inexperience with mobile money prior to the LINK Up Program. As one of the group explained: "When a woman in our group is approved for a loan, we accompany her to the bank and transfer the money directly to her account. We then guide her through the withdrawal process to show her how she can benefit from having the bank account. One of our members was afraid of going to the bank and wanted us to go on her behalf, but we supported her to have the courage to come with us. She was visibly scared when we approached the guards at the bank, but we assured her and explained that the guard was there to keep everyone safe. After we had transferred the money to her account, we went together to the ATM to show her how to withdraw the money. Once again, she was apprehensive to use the machine but we guided her through the steps and reminded her to keep her PIN safe and secret. When she saw the money coming out she was very excited and surprised to count the money and find it was the exact amount she had requested. Upon return to our community, she shared her experience with anyone who would listen, saying that she saw a wall give her money, that all she had to do was feed in a card, and money came out. She became an advocate for using the bank to keep money safe and encouraged other women to try using their ATM cards."
Nyakweng'rere Women's group is just one of over 10,000 groups who have opened bank accounts through LINK Up, building confidence in banking, expanding women's control over resources and increasing safety and security of group funds and their members.
These stories illustrate that working with formal financial service providers is meeting member needs for safety and access to larger loans. Savings group members feel their money is safer in a bank account than in the group's box which they used for keeping their savings when the group first began; This encourages them to save more and allows female members more control over their income. In fact, members of linked groups save and earn significantly more money than members of groups that are not linked.
Linkage, particularly to mobile money, also enables women to have greater control over their assets to direct towards their businesses. They can transact increasing amounts safely, secure inventory and diversify their businesses.
For more details, charts and figures, download the presentation and listen to a recording of the webinar. Stay tuned for more information on CARE's work with savings groups!