Against this backdrop, lessons we can learn from the Global Evaluation of UNICEF's WiPC (WASH Programming in Protracted Crises) are more pertinent than ever. As the first UNICEF global thematic evaluation focusing specifically on protracted crisis contexts, the WiPC evaluation offers lessons on adapting programming for the COVID-19 crisis to UNICEF and other actors working in the WASH space and beyond. It not only assessed the quality of UNICEF's programming, leadership and coordination, its monitoring and reporting systems but also examined to what extent UNICEF was able to link humanitarian and development action in protracted crises. Here, we highlight the three most important lessons for adapting to the COVID-19 crisis.
1. Balance longer-term strategies with immediate needs
UNICEF's dual mandate spanning humanitarian and development efforts should give a unique opportunity in dealing with protracted crises. However, the evaluation found that UNICEF struggled to balance immediate needs with longer-term strategies.
Our findings reinforced the principle that the immediate response needs to take consideration of the longer-term at the early stages of a protracted crisis — when resources are more readily available, and not focus purely on humanitarian modes of service delivery.
For example, UNICEF has set out a transformational agenda on LHD (linking humanitarian and development) programming but key pillars of the LHD approach — such as integrated needs assessments or joined-up resilience planning — were often missing at a country level and risk-informed programming was not multi-sectoral nor consistently integrated into planning and monitoring, nor were there clear longer-term strategies, supporting advocacy for predictable financing and programming.
Recognising the need for a cross-sectoral COVID-19 response is an opportunity to shift WASH programming towards a more integrated approach across sectors. We found little evidence of fundamental cross-sector programming actively driven by WASH, and no evidence of WASH programming — except for cholera interventions — in protracted crises designed to achieve health impacts. Data collection and reporting does typically not capture the WASH contribution to other sectors such as health and education.
Yet, ending the pandemic and preventing the re-emergence of outbreaks will require strong public health systems. WASH needs to be an integral part of building these, and not treated as an isolated intervention.
In addition, our evaluation identified that UNICEFs partnerships are a core strength of the organisation but may be utilised more effectively as part of a long-term approach. UNICEF and other organisations should work to empower local partners and build longer-term partnerships which go beyond individual contracts and reflect the strengths of local partners, to build, not undermine local systems.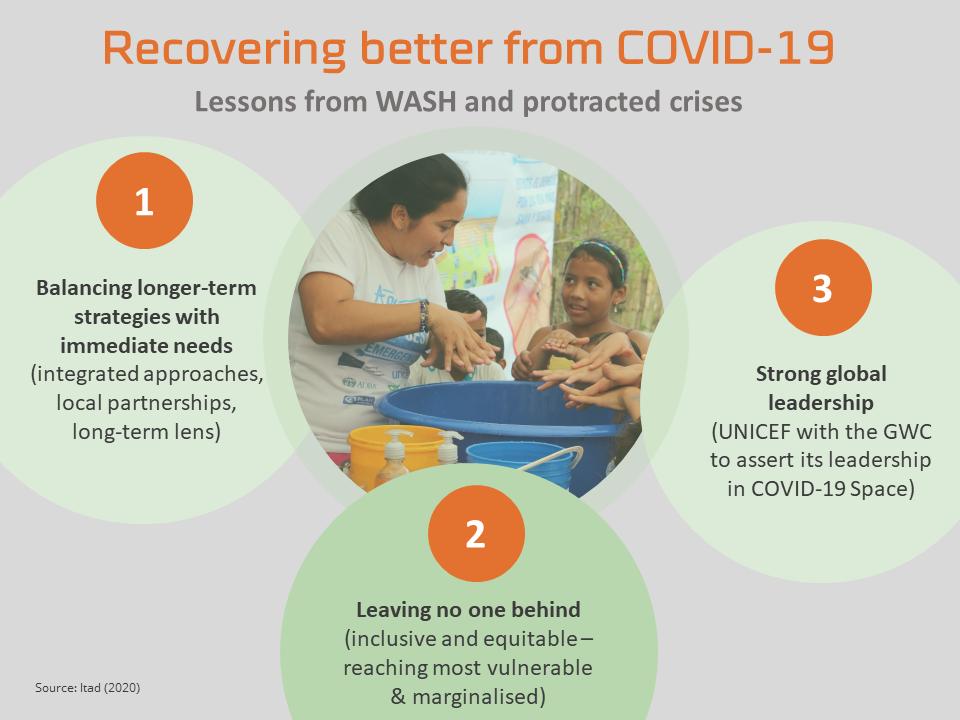 2. Leaving no one behind
In a global pandemic everyone is a vector, and so reaching the most vulnerable with hygiene messages, water supply and sanitation is ever more important. However, our evaluation found that UNICEF struggled to close this gap in protracted crises. Extending service provision was emphasised at the expense of ensuring equitable and inclusive responses, in part owing to a lack of quality data and an absence of user engagement mechanisms. We found UNICEF prioritised meeting sector standards and norms for coverage, at the expense of equity and quality commitments.
In the context of the current COVID-19 crisis, it will be important to step up on inclusive programming as any success of the WASH response in minimising transmission of the virus depends on it. Despite a necessary focus on public and community health measures, it is more important than ever to reach those who are less visible (e.g. disabled, housebound) and to extend risk analyses and programming approaches to groups that are not traditionally vulnerable, for example, men who appear to have a higher COVID-19 mortality rate.
3. Strong global leadership
The evaluation found that UNICEF could do more to assert its global leadership for WASH in protracted crises through analytical work, convening sector actors and leading innovative approaches and concerted action. In fact, the GWC (Global WASH Cluster) — a sector coordination platform for humanitarian responses, of which UNICEF is the lead member — was seen as being more pro-active in setting, influencing and disseminating global policy on WASH action in protracted crises. COVID-19 is an opportunity for UNICEF, with GWC, to provide global guidance on how to effectively respond. UNICEF has taken the first steps towards this with its recent Water under Fire report1.
At the country level, the nature of COVID-19 as a crisis that requires a response led by hygiene promotion and access to water supply provides UNICEF with a unique opportunity to lead the WASH clusters in aligning to agreed strategies together with government partners.
The GWC WASH resources on COVID-192 provide initial guidance and this work needs to be sustained and deepened.
Recovering better
In response to COVID-19, country programmes must adapt to protracted crises across the board and ensure that emergency responses are delivered through a long-term lens by building on and supporting existing systems. UNICEF needs to be at the helm of this process globally, through candid analysis and advocacy, and at the country level, with concrete operational leadership and guidance for COVID-19. But most importantly, the sector needs to rise to the challenge of equity and inclusion making sure no one is left behind in the response.
Feature image: Hygiene promotion fair in Ecuador. Credit: UNICEF Ecuador (Flickr)