The Covid-19 pandemic has challenged the protection of the rights of refugees in a profound way, with possible lasting consequences.
Lockdowns, curfews, and movement restrictions significantly restricted refugees' access to basic services, with disproportionate effects for women, girls, and refugees with disabilities.
We evaluated the effectiveness of international cooperation and the combined response of host states, United Nations system agencies, and non-governmental and civil society organisations including refugee-led organisations in ensuring the protection of the rights of refugees during the global pandemic.
The evaluation was produced in partnership with Valid Evaluations under the auspices of the Covid-19 Global Evaluation Coalition from May 2021 to January 2022.
Read more about our evaluation on our project page
Encouragingly, we found many positives within the overall response, including 'strong coordination among international actors and governments and a capacity for responsiveness and adaptation of refugees themselves as well as organisations with a responsibility to provide protection'.
The evaluation also demonstrated 'the importance of the principles on which the Global Compact on Refugees is based, notably international co-operation and responsibility sharing'.
However, our findings highlight a complex pattern of access challenges across the spectrum of refugees' rights and needs throughout the pandemic, some of which are summarised below together with our recommendations.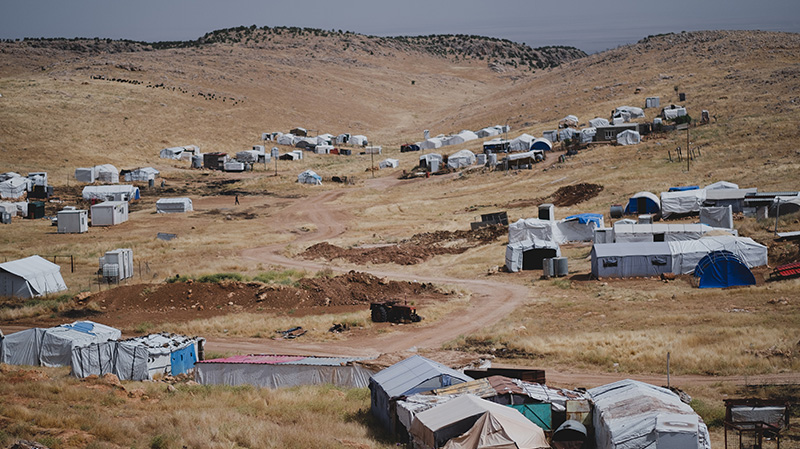 Right to seek asylum
In the early stages of the pandemic, over 195 states closed their borders either fully or partially. While necessary to contain the Covid-19 virus, this significantly impacted the ability of refugees to seek asylum.
As a consequence of border closures, in 2020 there were approximately 1.5 million fewer arrivals of refugees and asylum seekers than would be expected based on historical trends.
By May 2022 at least 20 countries still denied access to asylum citing public health measures as the reason. The consequences of this include:
Irregular border crossings: refugees must resort to dangerous and life-threatening alternatives due to closed borders.
Evidence of refoulement in 39 countries: there is also compelling evidence of deportations, pushbacks at sea and on land, and expulsions justified by Covid-19 restrictions with refugees being returned to persecution and violence.
Backlog of asylum applications: despite some responses moving toward remote technologies, there are also concerns about the sharp increase in the backlog of asylum applications, which is likely to have long-term impacts on asylum systems across the world going forward.
Our evaluation recommends that to improve protection and assistance for all refugees, states should uphold international refugee law and international human rights law standards, particularly during times of crisis and emergencies.
Access to healthcare
We found several good examples of support for healthcare access during the pandemic, for example:
Numerous countries offered universal access to healthcare for refugees, including free treatment related to Covid-19 testing.
Efforts were also made to increase access to healthcare for refugees in camps. For example, as the government of Bangladesh scaled up Covid-19 testing capacity, Cox's Bazar was one of the first districts outside of Dhaka city where laboratory diagnosis of Covid-19 was initiated.
However, in 2020, the UNHCR's Health Information System registered 13% less use of healthcare services by refugees than in 2019. Fear of repercussions, especially deportation, negatively affected refugees' health-seeking behaviour, including for testing or care related to Covid-19.
Formal inclusion in national vaccine plans was high, but there is a complex picture emerging around vaccine access and uptake. A global survey from early 2021 concluded that approximately half of National Deployment and Vaccination Plans explicitly included refugees and asylum seekers.
Our evaluation recommends strengthening the provision of information and messaging for refugees, ensuring that it is two-way and needs-based; sensitive to local social, cultural and gender norms; and effectively targeted to also reach those most vulnerable and marginalised, including those with limited access to online communication channels.
Child protection & gender-based violence
Gender-based violence against women and girls increased during the pandemic, together with increased protection risks to refugee children.
Rising xenophobia and discrimination increased the challenges for people on the move to access a large range of protection services including:
Education systems: reports from multiple countries cite detrimental effects on the safety of children, particularly girls, caused by disruption to education systems.
Lockdown restrictions may have led to a rise in early and forced marriage, adolescent pregnancy, sexual exploitation of girls, and girls being forced into domestic labour.
Family tracing and reunification services: disruptions caused by border closures and movement restrictions led to the increased and prolonged separation of refugee children and their families.
There are instances where unaccompanied and separated children were returned to their home countries.
Global child protection and gender-based violence actors rapidly shifted towards adapted service delivery following the outbreak of Covid-19. Quick and creative adaptations made it possible to maintain contact with children, families and women that otherwise would have been lost.
However, while there are numerous examples of good practices regarding remote adaptation, access to technology including mobile phones, computers or internet connectivity and reliable electricity remained a barrier for many.
Our evaluation recommends that in-person protection services are essential, recognising limitations of remote delivery, especially for survivors of gender-based violence, for children at risk and their caregivers, and for others with specific protection needs.
Examining the collective international response
We found there are some positives to be drawn from the international response:
Effective coordination among international actors and governments.
Responsiveness and adaptation on the part of refugees themselves and protection actors.
Generosity and flexibility on the part of donors in the first phases of the response.
Within humanitarian financing for the Covid-19 response, funding for refugee programming remained strong through 2020. Preliminary figures, however, suggest falling support from humanitarian donors in 2021. Funding levels for gender-based violence and child protection sectors were low in relative terms throughout 2020.
The recognition of refugees as a particularly vulnerable group provided a locus for collaboration between agencies, international humanitarian and development actors, and governments and contributed to significant steps toward the inclusion of refugees in national programmes, including national Covid-19 vaccination plans.
Collaboration and joint advocacy among international actors were key factors in the reprioritisation and rescaling of gender-based violence and child protection services as the pandemic unfolded, although these efforts did not lead to significant complementary increases in funding.
Localised responses
Refugees and refugee-led organisations played an important role in the response to the pandemic.
Particularly in the health response, community-based organisations and refugee-led organisations played key roles in efforts to share information on Covid-19. In Uganda, leaders of refugee-led organisations were among the first to speak out about the needs of urban refugees who did not receive humanitarian assistance, thus playing a key role in sensitisation on health issues.
Municipal responses were also key in the response to the pandemic. For example, the Mayors Migration Council supported a number of cities globally through the Global Cities Fund for Inclusive Pandemic Response, an initiative set up to respond to the unmet needs of cities as they supported migrants, refugees and internally displaced persons during the pandemic.
There are also positive examples of engaging local women's organisations from the start of the pandemic to promote their participation in contributing to the response. However, there are challenges with the systematic and meaningful engagement of local women and women's organisations in the gender-based violence response during Covid-19, particularly utilising an intersectional approach.
Despite their important role, refugee-led organisations are still considered high-risk investments and often largely excluded from the formal humanitarian response. Of the small proportion of humanitarian funding (approximately 2%) that goes to national organisations, less than 0.2% goes through local grassroots organisations. Often, these organisations are also overlooked for funding when there are opportunities for partnership in project implementation.
Our evaluation recommends that the international community invests in planning responses to future crises that protect the rights of refugees through the ongoing strengthening of preparedness efforts, with an emphasis on strengthening partnerships with national and local actors.