Today (26 May 2022) the UK Evaluation Society's annual conference included a panel event to meet authors of the new book 'Ethics for Evaluation: Beyond "doing no harm" to "tackling bad" and "doing good"'.
The book presents evaluators, policymakers, and practitioners with inspiration for a renewed ethical perspective. It provides a strong foundation for inclusive terminology and ethics guidance for future ethical evaluation practice.
As a co-author of one of the chapters, I share some personal reflections on the key messages of this book.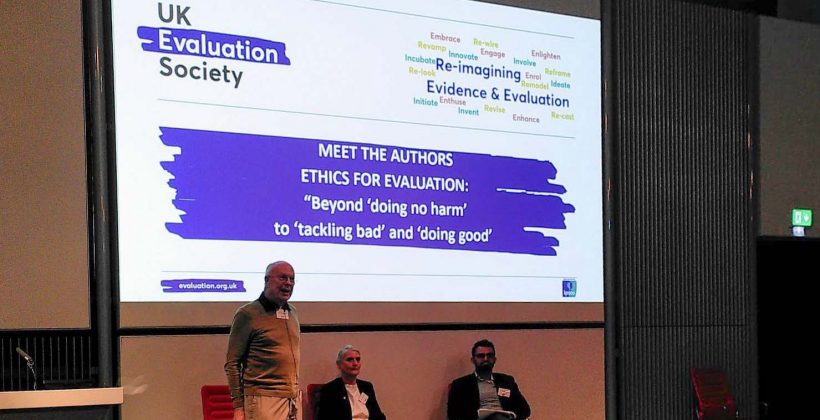 1. Ethics can help evaluation adapt to a changing world
We live in 'turbulent times', as the book puts it. It is well-trodden ground that we are experiencing great social, political, and environmental upheaval; from the war in Ukraine, the Covid-19 pandemic, through to climate change and biodiversity loss, these uncertainties have an impact on global development challenges across the board.
Throughout the book, therefore, there is a recurring call for evaluators to live up to their ethical responsibility to society, not just to themselves.
The central tenet is not that ethics has the answers to what is good and bad, but rather it provides a way for an open and honest discussion of evaluation's ethical role in shaping society. This is inspiring stuff.
2. Go beyond a narrow view of professional ethics
For many people, evaluation ethics is all about professional conduct. It focuses on things that the evaluator can control, such as the validity, objectivity, transparency and independence of their work. This can lead to a tendency for high-quality evaluation to focus mainly on 'do no harm' through its implementation, reporting and use.
While this is very important, the book offers a more expansive framing by proposing that evaluators should go further by also 'tackling bad' and 'doing good'; no longer viewing the evaluator as a passive observer, this moves evaluation beyond professional guidance and into realms of public service and civic good.
"Evaluators should be mindful that their ethical responsibilities extend beyond the boundaries defined by their study's immediate stakeholders". [1]
3. Move from value-free, to value-critical and value-committed
Too often, we can focus on more immediate utilisation (being largely beholden to our commissioner / decision-maker), rather than a wider perspective of social utility:
This is a narrow view, mirroring a model of social science focused on an objective, value-neutral knowledge of the world and our place in it. As such, values – except perhaps those of the commissioner – become relegated to being viewed as a potential bias in the evaluation process – something to mitigate or reduce for fear that it undermines principles of objectivity and independence.
In his chapter, Robert Picciotto shows the limits of this 'value-free' approach. Instead, he offers alternatives:
'Value-critical' approaches that recognise the values of all stakeholders, with an emphasis on inclusion, dialogue and deliberation.
'Value-committed' models that place greater value on the marginalised by drawing on social justice and human rights.
Transforming the way we do evaluation
For me, the book is a timely reminder to be more expansive in my ethical responsibilities.
Across all the chapters in the book there are rich insights and pointers to ways forward. In my chapter, co-written with Rachel Eager, we focus on the changing role of the evaluator and the ethical dilemmas of moving from a more orthodox external role to one that is embedded in the intervention and co-opted into facilitating learning. Other chapters helpfully explore approaches to transformative evaluation, decolonised evaluations, and the principles-based Blue Marble evaluation.
I end with something from Michael Quinn Patton's chapter that reflects on the "global emergency" (his term that goes beyond the climate emergency and considers related trends and crises). He succinctly captures the ethical challenge we face:
"If I care about the future sustainability of the planet, then I should also care about whether interventions are effective … we, evaluators, have skin in the game."
If you want to discover more, I suggest a few links:
[1] Morris, M (2008) Evaluation Ethics for Best Practice: Cases and Commentaries. New York: The Guildford Press. Cited on page 264 of this book.