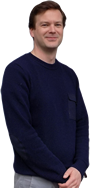 Get in touch:
Email
T: +44 (0) 1273 765 250

Tom Gillhespy
Tom Gillhespy joined Itad as a principal consultant in the FCAS theme in Spring 2017. He has 14 years of experience working in fragile states, and has experience in adapting M&E systems to local contexts in conflict environments.
Tom's career in fragile and conflict-affected states began in 2002 in Sri Lanka, where he worked within the rebel-controlled north-east for four years. Working for Norwegian People's Aid he developed socio-economic assessments for the mine action sector, training local teams of surveyors to generate prioritised action plans – work which also took him to South Sudan, Jordan, Ethiopia and Mozambique.
Prior to joining Itad, Tom was Head of International Programmes at Peace Direct for eight years, where he managed a wide portfolio of projects including countering violent extremism in Taliban strongholds of Pakistan, providing alternative livelihoods for former Al-Shabaab in Somalia, early warning and early response in Burundi and security sector reform in southern Africa. Tom has also specialised in local approaches to the reintegration of ex-combatants, working with local partners in DR Congo to develop community-based reintegration programmes which are recognised internationally as best practice. He has extensive experience of finding, supporting and working with local partners in areas inaccessible to the international community and a good understanding of how institutional donors can maximise impact on the ground.
| | |
| --- | --- |
| Nationality: | British |
| Languages: | English |
| Country Experience: | Burundi, DR Congo, Ethiopia, Jordan, Mozambique, Nepal, Pakistan, Somalia, South Sudan, Sri Lanka, Sudan, Zimbabwe. |
Qualifications:
2007
MA Anthropology of Conflict, Violence and Conciliation
University of Sussex
2002
BSc Environmental Science
University of Leeds
Employment:
2009 - 2017
Head of International Programmes
Peace Direct
2007 - 2008
Field co-ordinator
UNHCR Quick Impact Projects
2007
Consultant
Geneva International Centre for Humanitarian Demining
2006 - 2007
International Task Impact Assessment Advisor
Norwegian People's Aid (NPA)
2003 - 2006
Task Impact Assessment Advisor
Norwegian People's Aid (NPA)