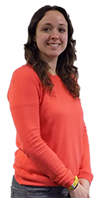 Get in touch:
Email
T: +44 (0) 1273 765250

Sarah Lamb
Sarah Lamb is a Senior Project Officer in Itad's Project Management Unit, having joined in January 2019. She has 5 years' experience in grant management and business development for International Development NGOs, including long-term posts in Madagascar and West Africa.
Prior to joining Itad, Sarah was the Senior Programme Officer for TB Alert where she managed institutionally funded Tuberculosis programmes in Southern Africa.
She holds a first-class BA in Economics & Politics and an MA in Development Studies from SOAS (University of London) where she developed a particular interest in Monitoring and Evaluation through her dissertation. Sarah has additional skills in facilitation, agriculture and Brazilian Portuguese.