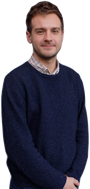 Get in touch:
Email
T: +44 (0) 1273 765250

Joseph Thompson
Joseph Thompson is a consultant in Itad's Social Protection and Livelihoods theme, working predominantly in the water, sanitation and hygiene (WASH) sector.
He is well-versed in qualitative and quantitative research methods and works across Itad WASH projects, including technical support on the DFID-funded Monitoring and Verification of the WASH Results Programme, and Accelerating Sanitation for All II (ASWA II).
Joseph has field experience in India, where he worked with a local team to conduct a baseline survey, and Kenya, where he studied the role of verified information as a driver for cooperation between conflicting farmers and pastoralists.
Prior to this, Joseph was part of Itad's business development team, where he was responsible for coordinating the preparation and submission of tender responses.
He holds an MSc in International Land and Water Management from Wageningen University and an MSc in Agricultural Development from Copenhagen University.