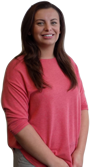 Get in touch:
Email
T: +44 (0) 1273 765250

Gina Koroknai
Gina Koroknai joined Itad in the Summer of 2017 and works as an Assistant Financial Accountant.
As part of the core finance team, she works to strengthen knowledge and provide support to colleagues from across the organisation in any finance related queries. Gina's key responsibilities are month end closure, reporting and budgeting with oversight of purchase ledger. She is also working on the development of processes and system maintenance within the finance department.
Gina has over 7 years' experience working in finance and prior to Itad, she was a European Financial Analyst for a global medical company.