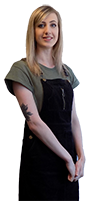 Get in touch:
Email
T: +44 (0) 1273 765 250

Georgie Hahn
After living in Brisbane, Australia, for almost a decade, Georgie Hahn moved to the UK in early 2017 and now works as a Business Development Commercial Officer within Itad's Business Development Unit. She works on strengthening the commercial management of projects and providing commercial insight and analysis to the business.
Georgie initially joined Itad in Summer 2018 as a Finance Administrator and brought a variety of experience to the team; having spent seven years working in community pharmacy and even completing a tattoo apprenticeship, before stepping into a financial role with University College London.
Georgie says "Joining the team at Itad Ltd has enabled me to develop my career whilst also contributing to the bigger picture; I have always been passionate about improving the environment and the lives of those within it."
Outside of work, she is an avid fan of music and enjoys nothing more than attending concerts and festivals. She loves creating fine art and gardening in her spare time.