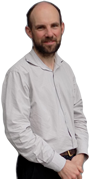 Get in touch:
Email
T: +44 (0) 1273 765250

David Allen
David Allen is Systems and Information Officer at Itad. He joined in March 2017 as Office Manager and moved into a new role in January 2020.
For the past ten years, he has worked in a variety of administrative support roles across the public and charitable sectors, gaining extensive experience in administrative, facilities, and health and safety management. Prior to joining Itad, he spent five years at Croydon Council managing business support in a variety of internal service areas, worked for the social housing and community development charity Peabody in an east London community centre and has also worked for the London Borough of Hammersmith and Fulham.
David holds a BSc in Geography from the University of Huddersfield.