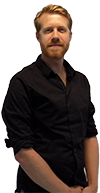 Get in touch:
Email
T: +44(0)1273 765250 (Itad Office)

Alex Cornelius
Alex Cornelius is an M&E specialist with eight years of experience in conducting interdisciplinary research and evaluation, focusing on the interactions between social protection, climate change and nutrition security. He joined Itad in November 2015.
Alex has considerable experience in designing, managing and implementing large and complex evaluations, particularly with the use of non-experimental designs, but also including theory-based mixed methods impact evaluation, process evaluation, systematic reviews and value for money assessments.
Most recently he was involved in the system level evaluation of the Adaptive Social Protection programme, which sought to establish shock responsive social protection mechanisms and resilience building components within governments across six countries in the Sahel. The evaluation assessed the impact of technical assistance and financial support on system level change and was focused on lesson learning. The findings from this evaluation are currently being used to inform the design of the second phase of the ASPp.
He is also currently involved in the qualitative component of a mixed methods impact evaluation of the Child Development Grants in Nigeria, which is a nutrition-sensitive cash transfer and behavioural change programme.
He is leading the qualitative component of the Supporting Nutrition In Pakistan evaluation, which will assess the impact of a national supply-side initiative that sets out to fortify wheat and oil in order to reduce micronutrient malnutrition.
Prior to these ongoing projects, he was involved in MQSUN's Programme to Accelerate Improved Nutrition for the Extreme Poor in Bangladesh project, where he carried out the process evaluation and cost-effectiveness components of the mixed methods impact evaluation.  He has also produced many nutrition-related literature reviews and policy briefs across south Asia.
Prior to joining Itad, Alex worked as an independent consultant for the Institute of Development Studies, Action against Hunger and the European Commission, amongst others within the nutrition, social protection and livelihoods space.
Find out more about Alex in his 60 Second Interview.
| | |
| --- | --- |
| Nationality: | British |
| Languages: | English (mother tongue), French (intermediate) |
| Country Experience: | Bangladesh, India, Mali, Niger, Nigeria, Senegal |
Qualifications:
2008 - 2009
MA Development Studies (Distinction)
Institute of Development Studies
2004 - 2007
BSc Economics
University of Kent at Canterbury
Employment:
2018 - ongoing
Senior Consultant
Itad Ltd.
2009 - 2015
Consultant
Alex Cornelius Consulting
As an independent Consultant Alex undertook a number of Mixed Methods research and evaluation pieces from a variety of actors in the Development and Humanitarian sectors. He provided formative thinking on the links between climate and nutrition in ACF and undertook a number of research pieces on Nutrition with IDS.
Project Experience:
2016 - Ongoing
BRACED: System level Evaluation of the 'Adaptive Social Protection in the Sahel Programme'
(DFID) -

Consultant
Deputy Team Leader for the Evaluation of the Adaptive Social Protection Programme in the Sahel. This is a theory based evaluation which focuses on system level change, particularly at policy level, as a result of the ASP programme implemented by the World Bank.
2015 - Ongoing
Child Development Grant: Cash Transfers Pilot in Northern Nigeria
(DFID) -

Consultant
Jointly responsible for the design, data collection and delivery of the report for the qualitative mid-term and endline evaluation of the Child Development Grants in Nigeria. This evaluation ultimately focuses on the effects of a non-conditional cash grants on nutrition in Northern Nigeria. The qualitative component provides the narrative around how the cash grant is being used, and documents changes over time across food security, household resource management, risks and coping mechanisms, Livelihoods and Income- and how these might explain changes in nutritional status.
2014
Economic assessment of the EU Private Sector
(European Commission) -

Consultant
Conducted a study on engaging the private sector in development extending the blending activities of the EU. Included a market gaps analysis of Asia, Central Asia and Latin America, and made an analysis of documents/literature review to identify the most relevant information for the ex-ante assessment.
2013
Exploratory Research on Nutrition Sensitive theories that might explain the dramatic improvement in child stunting between 2002 and 2012
(Institute of Development Studies ) -

Research Officer
Several in-depth analyses of the direct and indirect determinants that might have contributed to the dramatic decline in the prevalence of child stunting in Maharashtra. The objectives were to establish (1) whether there had been changes in Maharashtra in the preceding decade around the 'nutrition sensitive' underlying factors (e.g. WASH, Health Services, Food security, women status, social protection, economic growth, governance) and (2) whether these changes might explain the significant decline in the prevalence of stunting.
2013
Malnutrition in Northern Nigeria
(Institute of Development Studies ) -

Research Officer
Assessed the current prevalence of malnutrition as measured by a range of anthropometric and micro-nutrient specific indicators, and the successes or failures of various interventions at direct or indirect levels. Mapped key actors and stakeholders, reviewed the quality of current research and analysis of nutritional studies in Northern Nigeria, and provided support for a forthcoming cohort study.
2011
Nutrition Causal Analysis
(Action Against Hunger (ACF)) -

Team Leader
Led a nutrition causal analysis (NCA), using a mixture of both qualitative and quantitative tools. Using both statistical analysis and complementary qualitative narratives, a prioritisation of risk factors was established, giving a more detailed and specific understanding of how best to approach the problem of malnutrition in two Rohingya refugee camps in southern Bangladesh.
2010 - 2011
Research exploring the links between climate and Nutrition Security in Bangladesh
(Action Against Hunger (ACF)) -

Deputy Team Leader
Led exploratory research on the links between climate change and nutrition security. Involved identifying good current practices, linking climate mitigation and adaptation practices and programmes with the goals of nutrition security. Detailed desk review across the literature and numerous liaisons with key actors helped to provide a field practitioners' guide to help humanitarian work in the field integrate nutrition security goals into their projects. This field guide was then trialled in two climate hazard prone regions of Bangladesh, allowing enrichment and finalisation of the guide as well as providing a number of internal reports highlighting insights into the effects of climate hazards on nutrition security in the regions.
2010
Systematic Review of Agricultural Interventions on Undernutrition
(Institute for Development Studies ) -

Research Assistant
Focused on biofortification, animal husbandry, aquaculture, home gardens, and dairy development. The review showed that many evaluations didn't have the required power to show an impact of Agricultural interventions on linear growth. This paper has since been publish in the British Medical Journal.
Publications:
Nutritional status in northern Nigeria, prevalence and determinants: A review of evidence prepared for the ORIE component of the WINN programme

(2013)
ORIE NIGERIA
Longhurst, R., Haddad, L. and Cornelius, A.


A systematic review of agricultural interventions that aim to improve nutritional status of children

(2012)
BMJ 2012; 344:d8222
Masset, E., Haddad, L., Cornelius, A. and Isaza-Castro, J.,


How does violent conflict impact on individual educational outcomes? The evidence so far

(2011)
EFA Global Monitoring Report 2011; The Hidden Crisis: Armed Conflict and Education.
Justino, P. and Cornelius, A.