Capacity development needs to be context-specific and needs-driven.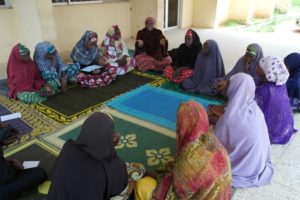 One of the observations from the situational analysis before the start of the M4D was that women, girls and persons with disabilities (PWD) are routinely excluded, and do not have the platforms or capacity to engage in governance processes.
To respond to the needs of adolescent girls for engagement in governance processes, the programme provides capacity building training (using a core compendium that includes leadership, community engagement and other life skills) and mentoring. The aim is to support to adolescent girls aged 13-17, for a period of 9-12 months, to acquire a core set of life skills and competencies through Life Skills Clubs. Peer champions, selected by Life Skills Clubs members, form a fluid structure known as the Girl's Platform (GP). This platform serves as a representative of girls within a local government area (LGA) in terms of engaging with ddecision-makersat the community and local government level on matters that are of priority to girls.
Structured, coordinated multiple stakeholder cooperation (convergence of ideas, or of skills) is required.
Where capacity is generally weak across sectors and players, it is important to look at skills development across the board to reap the benefits. Following from the gap analysis undertaken at the beginning of the programme, a capacity building strategy was evolved for different stakeholder groups. For service providers (SPs) and policy-makers (PMs), a primary focus of capacity building was to develop core skills in participatory planning and monitoring and standard-based approach to service delivery so that they will be better able to design and implement more appropriate services that respond to citizens' demands. Another core strategy and focus was to strengthen community engagement through building the capacity of Community Based Organisations (CBOs) and Girls' Platforms. This included reinforcing their organisation and engagement by supporting them to demand services and accountability from SPs and PMs.
As the programme progressed with implementation, the convergence of capacity building between the stakeholder groups became increasingly discernible. With increased skills acquired from capacity improvements, PMs and SPs responded to the demands and priorities of communities, while citizens and their representatives felt increasingly influential because PMs saw their demands as coming from the community, working with a single voice. Additionally, PMs now know that CBOs and GPs represent their communities and not their own personal opinions and so they make efforts to meet the demands that are put forward.
Robust performance measurement tools are needed to track the effects of capacity building, especially in the short run.
Given the process-driven nature of capacity building, it is important to have tools that will enable the tracking of results along the processes, so as to demonstrate concrete results and trace evidence. In its approach to capacity development, M4D adopted a three-circle model of reviewing three major dimensions. These are:
'ability to be': strengthening and measuring stakeholders' institutional capacity.
'ability to do': strengthening and measuring stakeholders' capacity to better undertake their activities for better results.
'ability to relate': strengthening and measuring the stakeholders' capacity to work in collaboration with one another and to effectively engage on common issues.
Capacity assessment tools were developed to track improvements over time based on these dimensions. Self-assessment tools, such as the Community Dialogue and Action Scale (CDAS) and the Accountability and Responsiveness Capacity Scorecard (ARCS) allowed stakeholders to reflect on the effects of capacity development in a progressive manner. The tools allowed the monitoring of the changes in the operations of SPs and PMs such as the increasing inclusion of their communities in developing plans and feedback processes to citizens. It also allowed the measurement of the progression of CBOs and GPs in coming together and making demands, including the effectiveness of platforms for engagement.
According to the chair of the Water Consumer Association, a CBO in Mallam Madori, Jigawa State:
"I like the CDAS tool because it shows intelligence; making us know who we are and how we operate, and it has allowed us to revise our organisational structure. In summary, M4D activities allow us to organise ourselves and others; engage with others and ourselves, and then influence others and ourselves."
Learning from programme experiences.
Experiences from project implementation suggest that failure to learn will cost the project dearly, as it does not allow challenges or even failures in functional areas and project processes to be highlighted. An import element of the capacity assessment tools is that their implementation provided a forum for critical self-reflection on the three dimensions described above, with assessments and lessons collated, including any capacity gaps and implementation challenges. By feeding these issues back into decisions for programme improvements, it allowed the programme to continuously learn and adapt as implementation progressed.
Capacity development is important and has demonstrable impacts on the provision of better services by policy makers and service providers. On the one hand, it allows citizens to become more confident and effective in prioritising their needs and presenting these to public bodies, including evolving broad platforms to make this possible. On the other hand, it allows policy makers and service providers to be better aware of the needs of citizens and effectively responding to such. The convergence of improved capacity through platforms for engagement are very helpful in building trust and confidence among stakeholders. Being able to measure the incremental changes in all of the processes is critically important, including the benefits and inclusion of women and girls, as well as traditionally excluded groups like people with disabilities.