It's no secret that we have entered a pivotal time for Climate Change. In October last year, the UN issued a report stating that there were only 12 years left to keep global warming to a maximum of 1.5°C, with so much as half a degree above this target having disastrous consequences for our planet.
Itad is a socially-conscious organisation who is committed to the ten UNGC principles – our primary purpose is to provide insights and drive better use of resources in international development. Unfortunately, it is the poor and marginalised communities that we aim to help who will be most affected by the effects of global warming. Facts such as these have encouraged us to look inwardly and think about what we can do as a company to be part of the solution, and not the pollution – especially considering our large carbon footprint due to frequent international travel.
Enter the Itad Green Team.
Formed of over 20 staff in December 2018, the Green Team have been collaborating with Itad leadership and staff to create ways of mainstreaming environmentally-friendly practices into our work and the decisions we make every day – as employees, consumers and citizens. We are aiming to promote change across three different spheres:
My World – What can we all do to reduce our individual carbon footprints?
Our World – How can Itad, our office and our operations become greener?
The World – How can we integrate sustainability concerns into all of our projects, and collaborate with partners to drive greener ways of working?
After a few months of brainstorming within these spheres, the Green Team shared a huge range of ideas at our first ever Itad Earth Day on the 9th of May. Staff from all areas of the company discussed what we could do as individuals, changes we could make within our building and operations, and ways we could reduce our flights and consider our carbon footprint when we design and carry out our projects. The knowledge and inspiration gained from Itad Earth Day helped to shape what the Green Team should focus on over the coming weeks and months.
So, what have we done so far?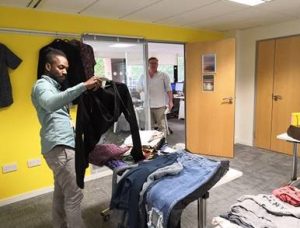 Within the My World sphere, we have rolled out weekly green updates in the Itad newsletter, sharing articles, videos, books, tips and even eco-friendly recipes, have screened films and talks which aim to raise awareness about the impacts of Climate Change, and hosted a swap shop to cast a spotlight on the devastating effects of the fast-fashion industry and encourage staff to reduce, reuse and recycle their clothing.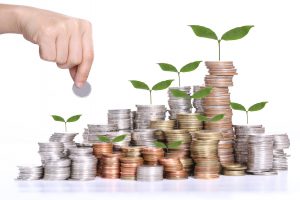 Investigating Itad through a green-tinted lens has helped us to identify changes we can make within the Our World sphere – we have recently conducted an energy audit with the help of a local community organisation in order to address gaps in our efficiency. Alongside this audit, we have also researched several simple tech solutions which can lead to more effective energy usage and greatly reduced waste, such as work island kill-switches, light sensors, cistern blockers and PINs on printers. Our Operations team have made the switch to vegetarian options for workshop lunches by default, in recognition that plant-based diets create a much lower carbon footprint. We have also become aware that one of the most impactful things an individual can do to reduce their carbon footprint is to move their pension to a more sustainable fund, and are working to inform staff about the greener choices available to them.
Tackling how our practices, projects and partners impact The World is arguably the biggest challenge faced by the Green Team, with Itad's flights being the main contributor to our carbon footprint. We are currently developing a blueprint to combat these emissions using the '4 R Framework' from Brett Favaro's book The Carbon Code, which involves reducing the number of flights we take, replacing higher carbon transport with lower carbon transport (e.g. trains instead of planes within Europe), refining our travel to get the maximum value out of every trip, and rehabilitating the environment to compensate for unavoidable emissions. We have also looked into various carbon offsetting schemes, and the evidence base behind each of them.
In the longer term, we want to move towards thinking about the difference Itad could make within our sector. Can we be an agent for change with our suppliers and partners? Can we mainstream environmental sustainability into our work? We believe we can.
If you are interested in sharing your thoughts or ideas, please leave a comment below or contact us at mail@itad.com. As the 2018 Young Champion of the Earth for Asia and the Pacific, Miao Wang, says: "No one can do everything, but everyone can do something".
Image credit: brennanandclark on Flickr.