Core[i] funding: NGOs prize it highly and very few donors provide it without a lot of strings attached.
In 2014 Itad was asked to deliver an evaluation of PSI's Mozambique country platform, which has a unique relationship with its main institutional funder, the Dutch Foreign Ministry.  This unusual relationship resulted in PSI Mozambique getting core funding from the Dutch without most of the usual conditions attached to it.  Both donor and NGO believed in the value of this arrangement, but there is little evidence to support that this way of funding NGOs is better, worse, or the same as providing restricted funding arrangements.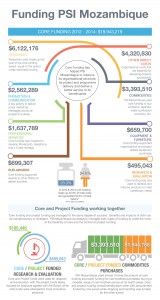 This was an exciting opportunity to try something different and to look at this thing called core funding through a totally new lens.  With a small team in place we developed a methodology to try and look at the impact that this core funding arrangement had on PSI Mozambique.  Drawing on Contribution Analysis and Process Tracing, we put in place an hypothesis that considered what conditions had to be in place at both the NGO and the Donor for a core funding relationship to work; what happened within the NGO as a result of this relationship and what effect this had on the NGO's performance and efficiency.
What had to be in place to secure core funding
We found that certain pre-conditions had to be in place in order for this funding relationship to work:
Good relationships between the NGO and Donor
PSI developed a longer-term strategic view of its activities and negotiated with the donor to fit in with this view (rather than traditionally the NGO fitting in with the donor's priorities)
The donor's grant manager held a venture philanthropy view of grant making (not the common approach with the Dutch Foreign Ministry)
These three pre-conditions meant that there was trust and transparency between PSI and the donor and there was an alignment between the NGO's and the donor's strategic priorities.  The most striking aspect was that PSI Mozambique approached securing this funding not as if it were an NGO and the Dutch a donor, instead it behaved like a company seeking investment, agreeing terms for that investment with the donor that remained true to the long-term objective of PSI.
What happened once the core funding was in place
This funding arrangement resulted in organisational changes in terms of PSI's strategic agility, operational flexibility, innovation and ownership of its strategy:
The main effect was improved strategic planning and the freedom to make changes to the organisational structure that responded to predicted risks and mitigated against known risks – better overall strategic control of the organisation
Without the artificial restrictions of traditional restricted funding, PSI was able to streamline its supply chain and improve supply chain management and restructure organisationally into a matrix management structure with agile project management, resulting in a more responsive, flexible and resilient organisation
An unusual finding was that the matrix management approach resulted in integrated learning, because staff now worked across a range of different projects, developing a clear overview of what was and was not working.  Knowledge and learning sharing was standard and integrated into the management structure.
Agile project management has encouraged internal innovation, which has revolutionised the way PSI works and resulted in the Movercado online platform (currently being spun out as a separate organisation)
The freedom and flexibility of core funding meant that PSI could also take a more commercial approach to researching and understanding beneficiary needs, developing more relevant and appropriate, higher quality products and services, influenced by continuous beneficiary feedback processes
What was the effect on performance and efficiency?
We conducted a financial review of how PSI had used the core funding throughout the organisation:
By strategically using its core funding alongside some pre-existing restricted funding, PSI improved programme efficiency
PSI increased its penetration into its target beneficiary communities through the use of new and non-traditional approaches, such as Movercado, developed through innovation and funded by core funding
Core funding made up 28.8% of PSI's total organisational cost, while core-funded activities delivered 35.9% of DALYs generated in one year (2013)
Overall there was strong evidence that core funding resulted in improved internal communication, improved organisational flexibility, greater accountability to key stakeholders and increased efficiency in managing multiple projects.
If we were going to sum up advice to NGOs seeking core funding or to donors wanting to understand the potential benefits of core funding it would come down to four key points:
Take an investment (NGO) or venture philanthropy (donor) approach to identifying and securing, or managing funding

Identify (re-identify) your long-term objective and negotiate funding (both core and restricted funding) that supports that.  Be prepared to walk away from potential partnerships that don't fit in with your long-term objective

Make sure you've got the right people with the right skills in the right jobs (matrix

[ii]

and agile):
Technical specialists are great at research, development of new approaches and innovation
Marketing and Fundraising specialists will sell that research, development and innovation (if they can't it probably wouldn't fly in the community either
Talented operational types will manage and deliver your projects on the ground from end-to-end
At every stage from R&D to delivering that final result, beneficiaries and the communities are key
Support and encourage innovation and integrated, constant learning (partly that also means lowering staff turnover)

and agile):
What has your experience of core funding been? Has your organisation been lucky enough to secure it? Is it still a pipe dream that your fundraisers are chasing? Do you think it's the holy grail of funding??
---
[i] By core funding we mean: long-term, conditional funding (because the NGO still have to report on whether results have been achieved) and untied to specific projects.
[ii] Do not try to implement matrix whilst operating a traditional siloed organisational structure, a topic for another day, but it will not work and result in burnt out staff members!