The launch of DFID's new Strategic Vision for Gender Equality gives me fresh hope that we are about to start a new phase in our push for gender equality. As international development organisations grapple with the realisation that we too reflect the power imbalances and abuses that are pervasive in society, the Strategic Vision is a timely call for everyone to take action for gender equality.
So what then should my contribution be, and that of Itad?
As a specialist monitoring, evaluation and learning company, Itad is uniquely placed to drive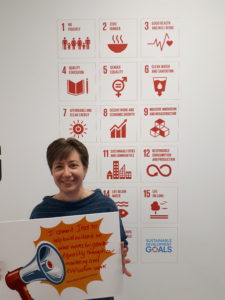 learning about what works for gender equality and assist organisations to act on this evidence. I was heartened to see that the review of DFID's previous Strategic Vision we conducted over two years ago had informed the new Strategic Vision – the need to connect the Strategic Vision with other policy drivers in DFID and Whitehall, the need to evolve monitoring systems to track gender commitments and results across DFID's portfolio and the need to invest in women's rights organisations were all key messages from the Review which have now been picked up.
I was also encouraged to see that the time we spent sharing learning from the innovative Voices for Change programme, which used social marketing approaches to improve young Nigerians' attitudes and behaviours towards women's empowerment, was a worthwhile investment. After a period of uncertainty around this kind of programming in DFID's portfolio, the Strategic Vision strengthens DFID's commitment to tackling deep-rooted social attitudes and discriminatory practices that prevent women and girls from reaching their potential.
These are just two examples of how Itad has helped build the evidence base on what works for gender equality and assisted organisations to act on it. As leader of Itad's gender theme, I will be working hard to ensure we continue, and extend, this influential work to ensure investments in international development bring about the best possible gender equality results.