What had seemed a fairly straightforward task of organising interviews, transport and accommodation, swiftly turned into a rather complex debate about security, the humanitarian-development nexus and how we conduct our work in fragile settings. To provide valuable field-level insights that would go on to inform Sida's strategic planning, we needed to visit 13 INGO's and UN agencies spread across North and South Kivu. Itad as an organisation has a vast amount of experience conducting evaluations in fragile and conflict-affected settings and has developed a robust safety & security risk management framework with an experienced in-house security team. In delivering this project we would need to draw on all that experience and would also learn new things along the way.
How to stay safe
Eastern DRC is an extremely complex, fascinating and volatile region. With the presence of multiple non-state armed groups and emerging only recently from an Ebola epidemic, the locations we were planning to visit were all deemed to be either high or extreme risk.
The humanitarian-development nexus, where the two fields combine to address vulnerability before, during and after crises1 was an idea I had often considered to be a remote concept, for the concern of those out in the field, but it soon played a very important role in our approach to data collection. How would we do our work in a way that was sensitive to the complex humanitarian situation, but also safe?
The priority for the team was ensuring appropriate security measures were in place. Itad has a Duty of Care to its staff and is required to reduce risks to a reasonable level. This could be via support from local security companies, or direct support from the organisations we would visit. Generally speaking, organisations can employ three different security strategies: deterrence, protection and acceptance. Depending on the context and the risk profile, a blend of the approaches can sometimes be utilised. Due to the short-term nature of our visit, we reached out to a private security firm in the region to investigate how they could support us.
However, owing to the principle of 'do no harm', the organisations we would visit all employed an acceptance-based security strategy. It became apparent that it was important to reflect on the impact a deterrence based security approach would have in this particular case.
The tensions between the possible approaches left me confused. I had spent hours reading about the atrocities armed groups had committed across the country, and envisaged myself now walking into the depths of the DRC armed only with my pencil.
'Do no harm' essentially means avoiding exposing others to additional risk through our action or intervention2. But in doing no harm to others, would I do harm to myself?
Is acceptance acceptable?
Many of the organisations we would be visiting in the field lived by humanitarian principles in order to gain and build acceptance with local communities. This meant that in order to maintain acceptance amongst the community, deterrence-based security strategies were not an option.
'Acceptance' is a risk management strategy employed in the humanitarian aid sector and based on reducing threats to aid workers by reducing the motivation to harm them.
There were signs that acceptance in the community where we were going to work was overestimated. There had been increasing attacks on aid workers on Ebola projects, as well as violent uprisings against the UN peacekeeping operations (MONUSCO) in the DRC. I would later pass the dilapidated ruins of the MONUSCO office In Beni, where not so long ago angry protesters were congregating.
Eventually, we were fortunate enough to partner with an organisation in the field who was working across the region in a coordinated and connected humanitarian network. We organised a detailed 'tracker' of NGOs to pick us up in their cars, under their duty of care, take us into the field and enable us to do our work.
The reality on the ground
Arriving in the field, my nerves were quickly settled by the friendly faces waiting for us at the airport. During our first evening, we were given a security briefing, which included statistics of attacks and locations where these had occurred. Conflict drivers and dynamics were briefly explained, as well as an introduction to some of the armed groups. I was then handed a mobile with a local sim.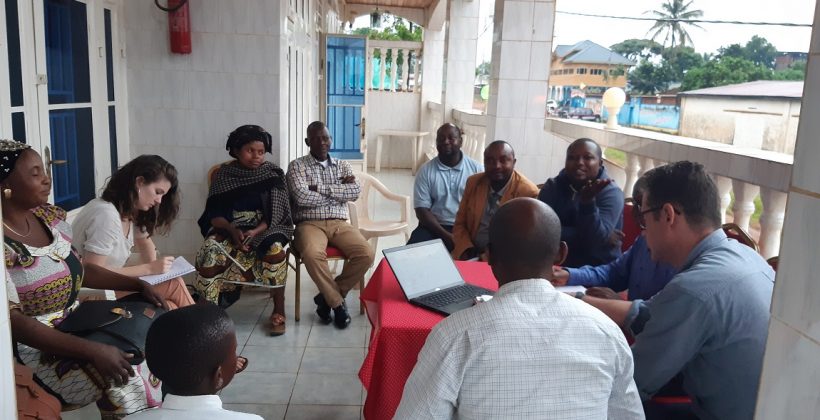 Communication turned out to be an invaluable method of security during our trip. Security personnel working across the region exchanged information on attacks or threats in group chats. This became vital one evening when I received a text message from Goma that I would be hearing shelling that night. The FARDC (the DRC national army) had launched an attack on a militia group in the forest surrounding the town we were in, but we were informed and were a safe distance away.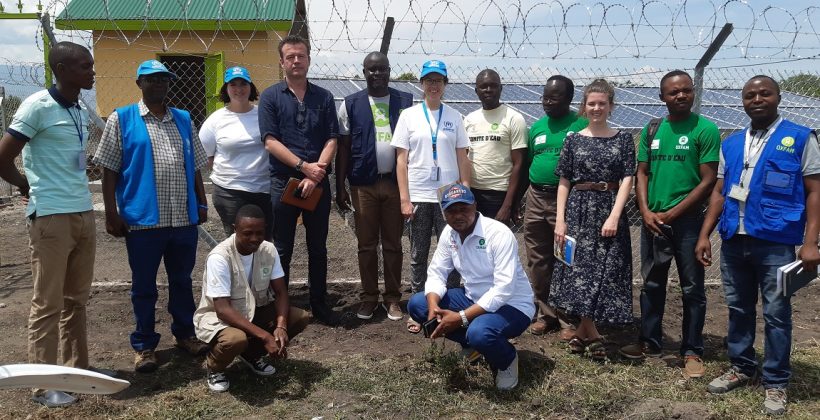 When jumping out of dusty 4x4s and walking up to local communities in remote regions, we were often greeted with friendly smiles. The organisations were trusted, integrated and, most importantly, accepted by many. We often had to adapt our project locations due to recent attacks, had constant radio communications and remained flexible.
Learning from partners
Whilst it is true that we may only work for a few weeks in high-risk contexts, we must still pay close attention to the dynamics of those who operate on the ground. For many, 'acceptance' has allowed them to work in this space, and if we are to rely on these organisations to provide us access, we need to be flexible and reflective on our methods of data collection. 'Do no harm' should be a principle that is at the forefront of this consideration, and I think there are many learning opportunities to come from this development-humanitarian collaboration in the future.
Whilst Itad has developed a strong safety & security risk management framework, our data collection methods must function within our corporate risk appetite. An important learning point that emerged from this experience is how we are able to deliver what a client wants within a fragile setting, whilst not working outside of our own risk appetite. Ultimately, the precautions we took not only ensured the safety of the team and communities, but enabled us to collect the data we needed. Our approach allowed us to be flexible, adapting to day to day security challenges, and changing locations if needed. I was extremely grateful to learn from a range of communities and actors, and build a wider and more detailed picture of the context in DRC.