At Itad, we work on different programmes that aim to support gender equality in Nigeria. Getting a deeper understanding of the changes that people are experiencing, the context in which these changes are happening, and the contributions different programmes are making, is key.
That's what made me curious about '#HowToFixNigeria: Dismantling Patriarchy', a panel session of expert speakers from Nigeria, Ghana and the UK, (chaired by Funmi Iyanda, an award winning TV personality, producer, and journalist), at Africa Utopia last week. The discussion focussed on what difference the attention to gender in development, and the work of women's groups, has made towards dismantling patriarchy in Africa's most populous country.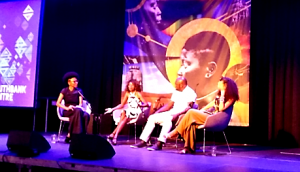 Gender inequality is deeply entrenched in our personal lives, which makes it so difficult to talk about and deconstruct – anywhere in the world. In the African context, the panellists discussed, that it is often argued that gender equality is not part of 'the culture' – without recognising that culture is dynamic and constantly evolving, and without acknowledging that within one culture there can be many different sub-cultures. Indeed, defending women's rights and working towards gender equality must be recognised as a cultural movement in itself. The question of cultural identity appears to be central to the concept of gender equality. Dorcas Erskine, a women's rights professional, highlighted this point, wondering when Nigerian men are going to stop defining their identity in relation to how they define women's.
Another assumption is that in any society, progress in gender equality takes time. However some of the discussion focussed on the perceived notion that Nigeria was much more liberal 30 years ago than it is today. This regression, the panel suggested, has something to do with the crises the country has experienced – the religious conflict, the economic problems, and the very failure of the government to care for its people, particularly in the North, where this triggered a regression towards more conservative values.
If concepts like culture and identity are difficult to define within a certain society, if they are subject to constant change, and if the causal pathway of achieving more gender equality is not necessarily linear, then what is the best way to dismantle patriarchy? Elnathan John, a satirist, lawyer and novelist, sees the normalisation of informal rules, created through conditioning, as the main problem. Men are conditioned not to see the problem of gender equality, while society does not talk enough about how gender inequality also harms men. Gender inequality is not good for business, it is not good for politics, and for society as a whole. What men need to understand, Elnathan emphasised, is that "gender inequality is even bad for them and for their own selfish interests".
Fatimah Kelleher, a women's rights and social development professional, agreed that articulating how futile privileges in a patriarchal society are is key – being the head of the household and decision maker comes at the price of the pressure society puts on men. Patriarchy is a self-perpetuating system, and is as crippling to men as it is to women. Fatimah suggested that re-education around gender roles is needed. The discussion on gender equality cannot only take place in the academic sphere, but has to translate down to educational systems.
Also, people from the audience highlighted how Nollywood often reinforces gender stereotypes and there is a need to desaturate the media by producing films and books that tell a different story – a story that empowers women, while simultaneously being inclusive of men. Women and men have to be convinced of different aspirations – different from the ones the mainstream media portrays and which have reinforced gender stereotypes over centuries and continue to do so. Women's groups have made significant contributions to advances in the debate, policy and practice for more gender equality. Such efforts need to be recognised and supported.
The social norms approach of the Voices for Change (V4C) programme, where Itad is a core partner leading on 'results', is providing important lessons on how dominant norms that perpetuate gender inequality can be challenged. To promote gender equality, V4C has pioneered a lifestyle brand targeting young people. This provides empowering messages and images for young women and encourages reflection and debate among young men and women about gender roles and how they inhibit people's potential. You can discover Purple on the 'I am Purple website', where you will find some of the Purple Tinz radio drama episodes and be able to join the Purple debate.
At the moment, we are in the process of writing in-depth case studies that unpack the stories of men and women who have experienced changes – in their personal or professional lives, in their attitudes towards gender equality or their active support towards women's empowerment – because of their involvement in the V4C programme. The panel discussion made me reflect on how important telling these stories can be and that this in itself is a way of deconstructing gender stereotypes, demonstrating that different realities are possible and indeed desirable. By telling these stories and by exploring the causal pathways of change, we hope to make an important contribution towards getting a deeper understanding of what works to dismantle patriarchy in Nigeria.
Julia Hamaus, September 2016