As a result, reaching persons with disabilities with SRH services is one of four key thematic focus areas within DFID's WISH (Women's Integrated Sexual Reproductive Health) programme.1
We've been working with the WISH technical working group on disability and inclusion to share learning on ways to increase access to SRH services for persons with disabilities in low and middle-income countries. To best understand 'what works,' we produced an EGM (evidence gap map) to map evidence on interventions with positive outcomes. EGM's are a user-friendly presentation of the relevant evidence for a particular sector, which is then systematically mapped onto a framework, illustrating where the gaps are or where evidence is concentrated.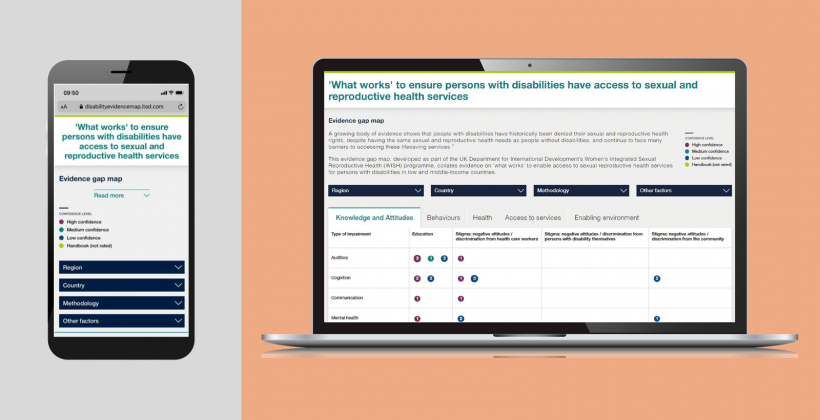 What we found
The EGM highlights that there is limited evidence when it comes to 'what works' to ensure persons with disabilities have access to SRH services in low and middle-income countries. For example, it indicates that more evidence is needed to understand effective interventions for young people with a disability, especially when it comes to the question of creating an 'enabling environment' for them to access these services.
Certain countries and regions are also particularly lacking in evidence on what works. Studies from Northern and Western Africa are limited and, apart from Nepal, studies carried out in Asia are few and far between. There is also limited evidence in relation to what works in humanitarian settings.
Evidence on interventions which aim to address the following issues was also particularly limited:
Encouraging healthy sexual behaviours, for example in relation to sexual pleasure or sexual orientation
Promoting communication and support-seeking amongst disabled persons
Addressing stigma, negative attitudes and discrimination from persons with a disability themselves
Promoting positive outcomes for disabled persons in relation to pregnancy, births, maternal health, abortion and post-abortion care
Provision of quality services, aftercare and confidentiality
Creation of an enabling environment, for example in relation to the cost of services
The need for a holistic approach
The EGM has brought into focus the need for a holistic approach to SRH programmes addressing disability and inclusion. Evidence has shown that persons with disabilities face multiple barriers which can vary according to the type of impairment(s) they have and the contexts in which they live. Health (physical and mental), disability, employment, education, infrastructure (e.g. transport/terrain) and poverty are all interconnected and should be addressed as a whole. Evidence on a number of successful interventions included in the EGM has shown how these components can be addressed within programmes; how to address environmental, institutional and attitudinal barriers2, how to work in partnership with other actors3, and how to involve persons with disabilities in research, programme development, policy creation and evaluation.4
The next steps
Given the gaps in available evidence, the EGM highlighted some key steps to consider when generating future evidence in order to better understand what works within SRH programmes for persons with disabilities, including:
1. Involve persons with disabilities from the outset
The EGM highlighted the need to involve persons with disabilities in research and evaluation teams from the outset and to validate findings in order to ensure data collection methods are inclusive.
2. Clarify definitions and expectations
Commissioners of research and evaluation should be explicit about definitions and expectations in relation to disability and inclusion when they commission data/evidence in order to ensure it is non-discriminatory.5
3. Share further learning on what does and doesn't work
Overall, research institutes, NGOs and disabled persons' organisations should generate further evidence on 'what works' based on monitoring and evaluation of programme activity. In addition, whilst we recognise that it is not easy to discuss and share failings, 'learning from failure' could prevent other organisations making similar mistakes and ensure that funds can be better allocated in future.
4. Incorporate better data on disabilities within information systems
Better data on disabilities can support a more robust analysis of health-seeking behaviours. Service delivery organisations should take steps to regularly disaggregate data by types of impairment, so that client profiles are strengthened and interventions better targeted.
Growing the evidence gap map
We would like to add to the available body of evidence within the EGM as more evidence becomes available. If you have evidence on a successful intervention to increase access to SRH services for persons with a disability, we'd love to hear from you. Please e-mail WISH4results@Itad.com with your suggestions!