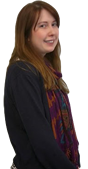 Get in touch:
Email
T: +44(0)1273 765250

Rosalind Welton
Rosalind Welton joined Itad in spring 2015 as a Project Administrator, and became a Project Finance Assistant in August 2016.
As Project Finance Assistant, Rosalind works with the Commercial Manager and Project Delivery Unit providing financial support on projects, grant management, and business development.
Before joining Itad, Rosalind worked at the University of Oxford, providing administrative support to departments and academics mainly focusing on drafting contracts, setting up financial accounts and reviewing proposals. Prior to this she volunteered as a teacher for a school in rural Kenya.
Rosalind holds a BA (Hons) in History from the University of East Anglia.