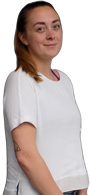 Get in touch:
Email
T: 01273 765250

Pippa Sturges
Pippa Sturges joined Itad in the spring of 2017 as an Office Administrator, and in November 2017 moved into the travel team.
For the past 10 years, she has worked in the leisure and tourism industry, specialising in marine conservation and local awareness projects on the value of ecotourism.
Pippa holds a BSc in Sport and Exercise Science from the University of Birmingham.