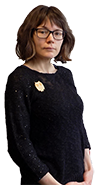 Get in touch:
Email
T: +44 (0) 1273 765250

Katherine Gibney
Katherine Gibney joined Itad in 2019 as our Design and Brand Co-ordinator. She oversees the use and growth of the Itad brand and supports staff to ensure all materials reflect our identity effectively.
Before joining Itad, Katherine was editor and designer at the Institute for Public Policy Research, where she oversaw the rollout and development of a new brand across the organisation's print materials.
Katherine lived for seven years in Myanmar (Burma) and Sri Lanka. She worked as a brand, design and editorial consultant and volunteer for a range of local, national and international non-government organisations, where she focussed on areas including governance, education, business development, land use, natural resource management and budget transparency.
Katherine began her career as a newspaper designer and subeditor, and also spent three years with London Borough of Hackney's award-winning communications team. She has a BA in English Literature from University College London.
Find out more about Katherine in her 60-second interview.