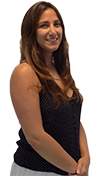 Get in touch:
Email
T: +44 (0) 1273 765250

Fernanda Pinheiro Sequeira
Fernanda Pinheiro Sequeira joined Itad in January 2019 as a Project Administrator. She supports project management and administration, logistics, contracts and technical content.
Prior to joining Itad, Fernanda worked as a consultant in the private sector and as a financial manager at a publicly-funded museum in Brazil. Fernanda's life in Brazil and her role as a public servant were crucial for her to develop an interest in social justice, sustainability, and development issues. She has also worked as an Immigration & Compliance Advisor at a private education provider and took part in several volunteering activities with The Real Junk Food Project (a food waste NGO) and she was a committee member for INTO Giving (an education charity).
Through her role at INTO Giving, Fernanda travelled to Greece and volunteered with refugee children, providing them with basic English and Maths lessons. Fernanda says that this experience was one of the most special moments of her life so far.
Fernanda has additional skills in qualitative research, stakeholder negotiation, and language skills in Portuguese and Spanish. She holds a BA in Business Administration from the University of Pernambuco (Brazil) and an MA in Social Development from the University of Sussex, where she wrote her dissertation on the impact of the Zika virus epidemic on the abortion debate in Brazil.