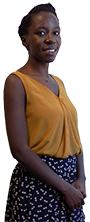 Get in touch:
Email
T: +44 (0) 1273 765 250

Faith Nikobari
After building years of experience in the non-profit sector, Faith Nikobari joined Itad in summer 2018 as a project administrator to assist with project management, administration, logistics, contracts and technical content.
Faith is passionate about helping the most vulnerable people in society, with a background of voluntary work and experience in projects aiming to strengthen community cohesion and tackle chronic poverty in developing countries. These opportunities have helped Faith gain international experience working in Malawi and the occupied Palestinian territories.
Her strong interest in the formulation of government and social policy led to her MA in Public Policy from King's College London. Faith also holds a BSc (Hons) in Property Investment and Finance.