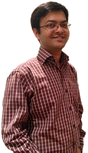 Get in touch:
Email
T: +44(0)1273 765250

Shovan Chakraborty
Shovan is a development worker with core competence in the planning, monitoring and evaluation of business models designed to develop markets.
Shovan's career in development started with Katalyst, a project reputed for being the flagship in market development. After serving in implementation work successfully for a year, he shifted to the unit responsible for M&E in this M4P project. Since then, he has directly worked in monitoring and evaluation of interventions in agricultural and industrial sectors. He developed the data aggregation system for Katalyst in 2011. In 2011 and then in 2013, he led different implementation units and the wider management team in Katalyst preparing for the DCED (Donors Committee for Enterprise Development)audit on the M&E system of Katalyst. He has presented some of his M&E work on M4P interventions in different value chains in international academic conferences and workshops. Currently, he manages on-site M&E on behalf of Itad for the M4P components of Private Enterprise Programme Ethiopia.
Shovan holds interest in mixed-methods approaches in assessing feasibility of promoting businesses and linkages that can benefit the marginalised and disadvantaged people. He has worked with tracer studies and iterative methods for continual monitoring and results measurement in market development interventions. He has worked in development of M&E systems that aim proving as well as improving of the quality of development work. Shovan also has a Master's in Resource and Environmental Management and hopes to use his experience at one point in future for research and development work to promote green technology and practices.
| | |
| --- | --- |
| Nationality: | Bangladeshi |
| Languages: | English, Bengali |
| Country Experience: | Bangladesh, Canada, Ethiopia, India, Thailand, UK |
Qualifications:
2010 - 2013
Master of Resource and Environmental Management
North South University, Bangladesh
2005 - 2009
Bachelor of Business Administration
University of Dhaka, Bangladesh
Employment:
2014 - Ongoing
Associate Consultant
Itad Ltd
Training:
2011
Managing and Measuring for Better Results in Market Development Programmes, Springfield Centre, UK
2010
Livelihoods and Markets, Coady International Institute of St. Francis Xavier University, Canada
2010
Tourism Products & Value Chains for Sustainable Economic Development, GIZ, Thailand
2010
Investment Targeting and Trade flow Analysis, International Trade Centre
Project Experience:
2014 - Ongoing
Private Enterprise Programme Ethiopia (PEPE)
(UKAID) -

M&E Lead
Description: PEPE started its inception phase in early 2013. The major components of this hybrid program, branded as 'Enterprise Partners', worth £40mil, are aimed towards development work in the M4P approach. Implementation in these components has started in 2014. The sectors selected for M4P interventions, in alignment with priorities of the Government of Ethiopia, are: Cotton-Textile-Apparels, Livestock-Leather and Fruit-Vegetable. There is also a component aiming to strengthen the Savings, Debt and Equity markets to strengthen the mentioned three value chains. Overall, PEPE intends to impact approximately 45,000 households and create approximately 45,000 jobs by the year 2020 through catalysing £284mil of investment.

Activities: Manages on-site monitoring and results measurement work, leading a three member team, with purpose of reporting and communicating results of the M4P components of the programme. In the process of setting up processes and templates for the M&E system, as per the DCED standards of results measurement, to ensure healthy flow of information from M&E processes towards results-oriented better steering of the project. Supports in the work of the donor-appointed external evaluation team as required. Manages the work and capacity development of two M&E analysts. In alignment with DfID guidelines, developing a conceptual framework, for measuring Value for Money. Developing a data aggregation system and supporting revision of Itad's M&E Handbook for the programme.

2013 - 2014
Katalyst (Phase 3)
(UKAID, SDC, DANIDA) -

M&E Manager
Description: The third phase of Katalyst was launched in the spirit of further strengthening the private sector's role in making the agricultural sector more competitive and markets more inclusive in Bangladesh. This CHF 32 million phase (2013-2017) continues to focus on key high value agricultural sectors and support sectors, such as vegetables, maize, fish, seed, fertiliser, information and communication technology.

In these value chains, Katalyst intends to change the overall market system and deepen behavioural change in private businesses so that targeting marginal and small farmers become 'business as usual'.

This phase is also marked by stronger focus on more effective public-private partnerships. There is specific emphasis to anchor in key institutions, the M4P knowledge and experience garnered since 2002 in market driven approaches. This aspect of knowledge management and capitalization in its exit strategy has led Katalyst to work through a dedicated unit to produce, and disseminate quality research pieces on different themes around M4P interventions.

In order to assess the intended systemic changes in the market, and to support the drive for knowledge capitalisation, the monitoring and results measurement unit of Katalyst is engaged in exploring innovative tools, techniques and methods. As a part this initiative, the project is moving towards adopting mixed methods in M&E. Along with deepening systemic changes in markets, the project, in this phase, is expected to create an income impact of $300 million on 1.63 million farmers through increasing their competitiveness by 2017.

Activities: Led a nine member M&E team in conducting routine activities and special assignments in monitoring and results measurement of the project; also part of the 'core leadership team' of the project. Supported log frame development and projections across sectors. Developed a semi-automated, Value for Money measurement system, in compliance with the DfID framework. In alignment with the log frame, developed a systemic change measurement framework. Ensured quality of information collected from the M&E system feeding into the strategic design of development interventions. Conducted training on 'Market Development' and 'M&E' for project staff. Was coordinator of the M&E working group of Swisscontact South Asia, leading learning by sharing M&E knowledge within 7 projects in two countries. Has Recruited technical staff for the team. Incorporated aspects of disaster risk reduction and Climate Change in project strategy.

Represented Katalyst and shared an M&E case study at the Donors Committee for Enterprise Development (DCED) Global Seminar. Represented Katalyst as a guest presenter on "Tools, Processes and Challenges in Monitoring and Results Measurement of Market Development Projects" at Mekong Institute, Thailand.

2010 - 2013
Katalyst (Phase 2)
(UKAID, SDC, CIDA, Netherlands) -

Implementation Staff; and later M&E Focal
Description: Katalyst is the oldest M4P project in Bangladesh, and is also one of the most successful ones in the world. The approach of the project was based on the premise that enhanced private and public sector business services, coupled with an improved enabling environment, can lead to more competitive enterprises, sustainable economic growth, and poverty reduction. The project worked indirectly, in partnership with market players. It designed and implemented interventions by harnessing market incentives to encourage the reaching of large numbers of beneficiaries and to ensure sustainability.

With the mandate of large scale impact in Phase 2, Katalyst created a number of business models to sustainably cater to needs of small and marginal farmers at scale. By 2013, Katalyst benefitted 2.3 million MSMEs in 17 sectors of Bangladesh and created an income impact of $290 million. The final review in this phase confirmed that the project demonstrated strong value for money, being economic in terms of per unit cost ($24 per beneficiary). The cost benefit analysis showed a strong return against investment ($5 increase in income against $1 cost).

In this phase, Katalyst also strengthened its monitoring and impact assessment system which rigorously measured results and helped to inform and improve future interventions. During this time, the project was also the first one found to be robust when audited for adequate results measurement standards, developed by the Donor Committee for Enterprise Development.

Activities: As a beginner member of an implementation team, assessed intervention-feasibility, formed partnerships, led ground level implementation in assigned sectors. Led study across all divisions of Bangladesh to assessthe feasibility of integrating craft value chains with the furniture sector and the tourism souvenir industry. Negotiated and created partnerships with the Export Promotion Bureau, Bangladesh with purpose to enhance furniture export, which led to formulation of a furniture export strategy paper for the first time in Bangladesh and reduction of tax on two major raw materials that are used to produce exportable furniture. Supported creation of linkage between furniture manufacturers of identified clusters and private suppliers of better quality input and services

As a senior member of the M&E team, took charge of the more complex tasks of the team, and provided guidance to other team members in everyday work. Led impact assessment studies done through external research organizations. Conducted study on positive externalities resulting from supply of more efficient water-pumps. Emulated methodological learning and supported teams to strengthen attribution quality in project by. Led routine M&E activities for more than 50 interventions in 7 different sectors and guided others. Led orientation for and preparation of project staff regarding the 'Donors Committee for Enterprise Development' (DCED) Audit in 2013 on the Monitoring and Results' Measurement System of Katalyst. Developed a semi-automated, IT based system to aggregate results across 17 sectors for reporting to donors'. Semi-annually tracked cost per sector and derived suggestions to enhance value for money in portfolio. Led Documentation, staff preparation in a selected sector for the 'Donors Committee for Enterprise Development' (DCED) Audit on the Monitoring and Results' Measurement System of Katalyst. Supported tailor agreements with different market players. Designed modules and acted as instructor at the workshop on 'Internal Capacity Building Monitoring and Results Measurement' for project staff of Swisscontact Katalyst in 2013.